The meaning behind our new logos
10.01.18
On the 5th of January this year we launched our rebranding, this extended beyond a logo to a new website and a new feel to the Vanguard 86 brand. Created in partnership with fellow New Plymouth agency Strategy Collective we had a good look at what we offer and threw away a lot of ideas that were excellent, but didn't quite hit the essence of what Vanguard 86 has become. We actually ended up with 5 new logos, each with their own compelling story.
Lots of brands, when they refresh themselves, change their name. From the beginning we explained that we wanted to keep it the same. We still want to be at the Vanguard of digital marketing and that focus to be at the forefront of the industry hasn't gone anywhere.
So why bother rebranding?
Well a lot had changed in the 2 years since Thomas has sat for 3 days creating the logo on an almost decade-old iMac. Painstakingly curving the elaborate letters he created a logo that was unique but inspired by the British understated simplicity that he had left. It was conservative, safe and simple. Much like the man that had created it. It suited a one-man-band looking to be a sensible choice for businesses looking to grow in an ever-changing world.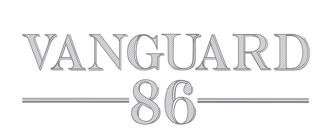 Fast forward 2 years and a lot had changed. The business had transitioned from consulting to full service. The expertise within the agency had grown as the team had developed. Where there had been 1 there was now 4 brains working together. Recognition of the work that the agency was outputting had begun to be recognised too. Vanguard 86 was a Google Partner and a HubSpot Gold Partner, it had also been recognised internationally for client work and was a finalist in the most prestigious national awards.
Yet the old branding was slightly inhibiting. Feedback from potential clients was that some of our direct rivals were slightly more modern in their look and fit the 'digital agency' mould. Our conservative approach was deemed too safe in an industry that needed excitement and change.
So when the new branding discussion first occurred one of the cornerstone elements of the brief was to look exciting, modern at still at the vanguard of digital marketing, but to also showcase reliability and safety.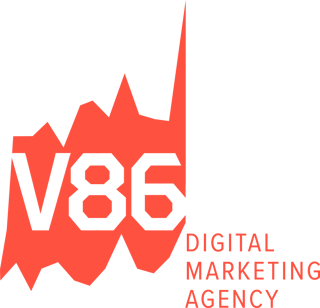 When people approach us it's usually because their digital marketing isn't working as well as they know it could. Yet marketing is a discipline where results aren't guaranteed so promises of results are met with skepticism, as they should be. But results forms part of that reliability that was so key to our brand - we want to assure people that we will work to make things better.
Our main logo, above, takes some of those results and puts them at the forefront of our brand. The sound wave peaks and troughs are taken from client data, in particular the campaign that saw us announced as finalists in the NZDM Awards.
The top line shows the website traffic from one client from when we started working with them to the end of their first major campaign.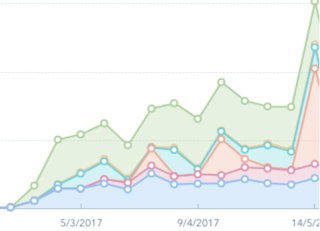 The bottom row shows the new contacts the client received during the same period. These are new people to the database thanks to various new conversion elements implemented through the campaign mechanics. This is the data the client cares the most about as these are potential customers and leads.
We submitted these results and outlines of our work to the New Zealand Direct Marketing awards and have been selected as finalists due, in part, to these results. This means the work, and the data this graph shows, has huge significance to us.
It's also a constant reminder that the work we do must deliver results. We have the advantage of being able to see deep and relevant metrics and through applying our skills and knowledge we can deliver superior results.
We decided to give each of our 4 service offerings its own brand to both showcase their difference but also remind us of the results we're aiming to achieve with each and the difference we can make. Whereas some have had a stylistic twist added to keep them looking interesting all hold a data-driven story at their core,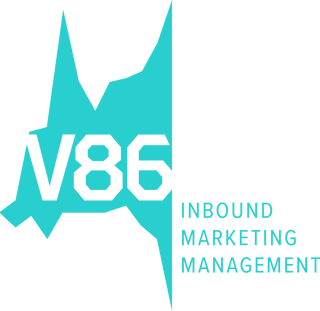 With these graphs we wanted to show how inbound marketing, when managed properly, can help a business increase its leads. When we manage a business's digital marketing through our Inbound Marketing Management programmes we ensure their digital marketing works together to deliver consistent results.
The bottom line of the graph is pretty simple. It shows the enquiries this business had in 2016 and the top line shows 2017, which is when we started working with them.
Whereas the bottom line has a trend line that trends downwards our work with them has seen their annual enquiries trend upwards.
This shows the results inbound marketing brings. When social media, blogging, email marketing and website conversions work together we can see significant improvements in the amount of leads a company has to turn into sales.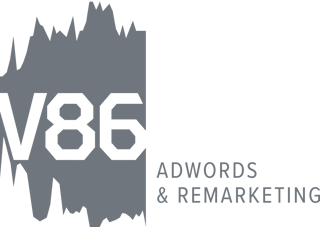 Our AdWords and Remarketing service allows businesses to pass the management of their online advertising to a certified Google Partner agency. Here we want to show two key metrics, stylistically that provided some challenges so the results have actually been flipped.
The top row, going from right to left, shows the average cost per click this client is paying for their keywords.
Seeing this decrease is really good because it means we're making each dollar go for longer, which means customers get more website traffic for their budget.
Also moving from right to left the bottom graph then shows the amount of visitors the website has had thanks to AdWords during the same period.
It shows that we're bringing in more visitors and when compared to the top graph shows we're spending less to achieve that. This helps to remind us that we're always looking to create greater efficiency in marketing, and treating client's budgets as though they were our own.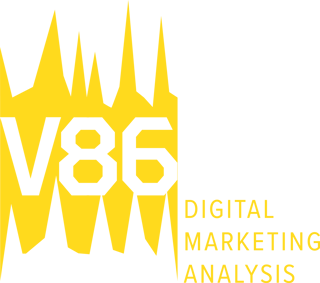 With our Digital Marketing Analysis service (using Google Analytics to make recommendations on digital optimisation) we wanted to show how marketing can generate direct revenue and ROI for a business. In the graphs we look at the revenue generated that was influenced by inbound marketing campaigns we ran. The top shows one client and the bottom shows blended results from 2 clients.
In 3 months we'd generated $2.5m of 'influenced revenue' over 3 clients over both graphs, that means the closed won deal is associated with a contact that engaged with one or more assets related to a given campaign which we created.
Not only can we see the revenue but also the name of each contact in the CRM that closed and the dollar value of each deal. The ongoing analysis of which marketing campaigns work, and optimising them to deliver better results is what keeps generating revenue from marketing.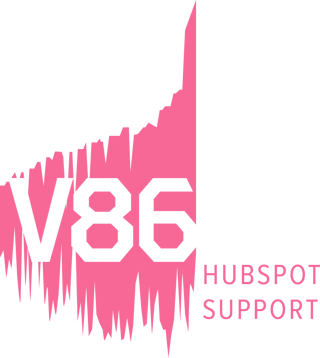 With our HubSpot Support service (assisting brands that self manage their HubSpot portals) the top line of this logo shows how much the database has changed since we began working with this business. It shows the total amount of people we're marketing to by looking at their database size. You can guess the point we came in and began helping them with their inbound marketing.
100% of this database growth came from inbound marketing, no contacts were bought or farmed.
Database growth is important as it means more people to market to, and it counters the natural decay a database goes through.
The bottom graph shows the click rates of emails since we took over (we came in at the lowest point towards the right of the graph).
You can see the click rates (the engagements in an email) slowly heading downwards before bottoming out close to the lowest dip. We came in just after the lowest drop and have been returning them to increased engagements since.
Each logo serves as a reminder to the agency that it's employed to deliver results. The whole team needs to treat each client's marketing efforts with respect but also remember that the agency is charged with getting results. The agency is only as good as its worst result and will only be valued by a client partner if it continues to deliver results.
To learn more about your businesses digital marketing or the HubSpot software, and if there is room for you to achieve similar results why not take our FREE online marketing assessment.
filed under business management, HubSpot