What does an SEO agency do?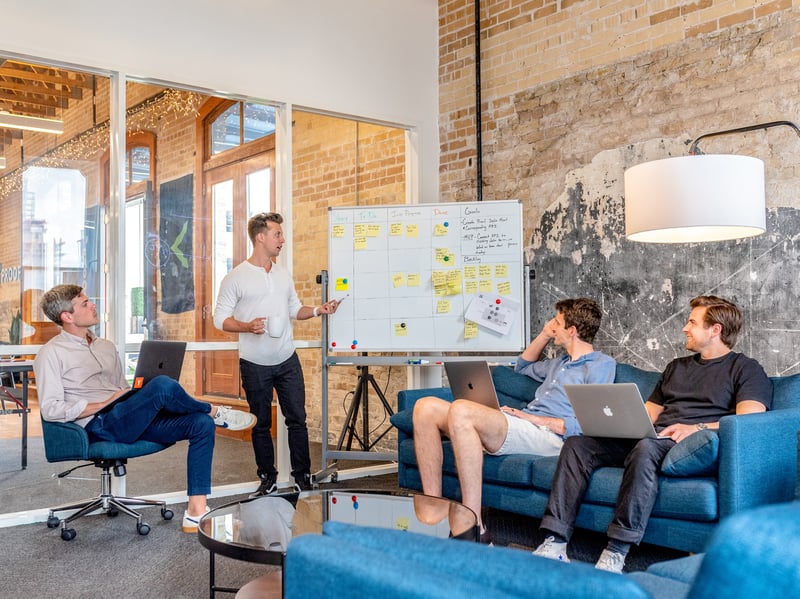 Firstly, what is an SEO (search engine optimisation) agency? An SEO agency, also called a web positioning agency, is a company that is dedicated to making its clients' brands, products, and websites visible on search engines via unpaid strategies. For this, you must have an understanding of how search engines work to be able to influence your results.
The process involves optimising on-page and off-page SEO. On-page SEO factors include the quality of the structure of the code, the technical composition (speed performance etc..) and the visual & textual content of your website. Off-page SEO factors include link building, directory submissions, social promotion and increasing brand recognition.
Does an SEO agency really help?
The simple answer is yes. There are many ranking factors that need to be taken into consideration; there are well over 200. They do vary in importance but the search engines do not divulge entirely what these are or the weighting placed on them, however, there are some which are considered best practice. Changes can occur regularly and an SEO agency keeps up to date with these changes and makes modifications where necessary. This is not an easy task, new changes may require a programmer or additional resources to make these occur. An SEO agency will help in determining which factors are of greater importance for your website at the time and what needs to be done.
The process of optimisation won't happen overnight, it can take some time (even several months) to increase your ranking organically. The biggest misconception is to 'set & forget' that is, to make the changes required and forget it; optimisation is a continual process. An SEO agency will formulate a strategy based on where your website is at present and what changes are required to help increase your organic ranking in the SERP's.
If you want to improve your online strategy, put yourself in the hands of an SEO agency, and you are likely to reap the rewards sooner rather than later. People often wonder why they should spend money on hiring an SEO agency and what do they do to help increase your visibility in the online world. Well, here, we discuss some of the work that an SEO agency undertakes.
Research
First of all, an SEO agency would spend a large amount of time learning what the business does, the products or services they sell, their competitors and what they are trying to achieve. This information is gathered from numerous sources including direct communications with the client.
Study the current situation
Once the client has given their point of view, a good SEO agency studies what the client's current situation is to mark a context in which to work. This includes analysis of the competition, study of keywords, configuration, and a setting of goals in Google Analytics, state of the website, and identification of areas for improvement. This occurs in the format of an SEO site audit report.
The audit involves:
Analysing on-page and off-page SEO not just for your website but also your main competitors.
Researching traffic and collating additional empirical data that is relevant to the business
The information is then presented to the client in the form of an audit report. This audit report explains the discrepancies between where the site is at present and what changes are required to fulfil SEO best practice.
SEO actions
The most critical task of any SEO agency is to do SEO! As mentioned above organic positioning in Google is a slow process, so it requires constant work and optimisation. Once the guidelines are marked, they must be met and carried seamlessly to avoid being left behind.
Evaluation and internal communication
As we know, SEO is not an exact science, nor can the same strategy be applied to all clients. Furthermore, it is a progressive and constantly changing process. Therefore, a good SEO agency must evaluate what actions have been taken, what results have been obtained, and what the next steps are. For all this to make sense, an agency must have an understanding of the SEO strategy with its content marketing strategy.
SEO glossary
Audits and audit reports can be quite extensive and involve a great deal of jargon. The following is a glossary of some common SEO terms; what they mean and an image of where they appear. As an example, I have used the keyword: filtered water
Meta/Title tag
This appears in the title bar of the browser you are using. The search engines display these when you look at the search engine results page. This is important for the search engines as they use these to recognise what information the webpage contains. They must be unique for all pages on your website.
The image below is what the title tag looks like on a search engine results page:


The image below is what the title tag looks like on a webpage

Best practice: Provide your primary keyword for the page first and these should be limited to 50-60 characters.
Meta description
These are short pieces of text which appear in the search engine results page (SERPs). They describe the content of the site. A short description not only helps the search engines but it also helps you the user in deciding if its what you are looking for. Remember Google bolds the bits of the keyword(s) that you enter so often the more bolding may indicate that this is the best website for what is being searched for at the moment.

Best practice: Provide your primary keywords first then secondary keywords. Character limits are different for mobile devices and desktops, however, as mobile devices are generally used the most to access the internet, it would seem more advantageous to stay within the mobile limits these are less than 155 characters.
Heading tags (H tags)
Think of H tags as headings and sub-heading to differentiate content on a page. There are 6 types of tags H1, H2, H3 and H4-H6. Heading tags appear as text on a page to the user, they can be different sizes and fonts etc and as mentioned above they are used to present structure on a page. Tags are characterised in the code of the website and prefixed as <h1>, <h2>, etc.. You will see from the example below the front of the website with the H tags labelled in red.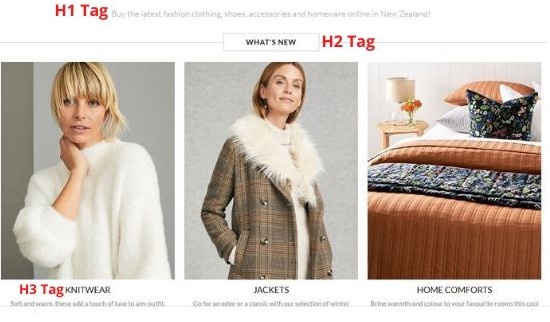 Source
Best practice: Generally there should be only one H1 tag per website page and tags should be hierarchical, i.e H1 then an H2 then an H3 and so on.
Site loading speed
This is the speed in which pages load on your website, we know that this is considered a ranking factor when it comes to ranking your website organically.
As mobile devices are now the go-to for accessing the world wide web Google now uses mobile-first indexing i.e. Google will analyse the mobile version of your website over the desktop version - hence page speed is an important ranking factor.
SEO friendly URL's
Google states that URL's with words are more relevant to a site's content and structure and more user friendly to a visitor. Below is an example of a non-friendly URL and a friendly URL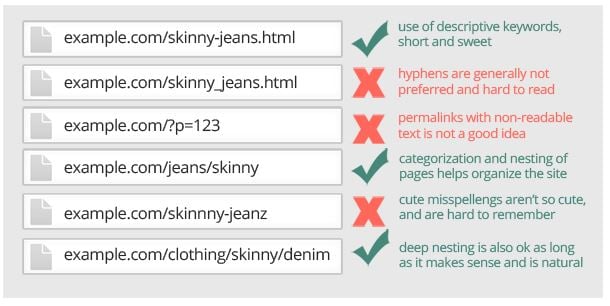 There are many attributes to writing an SEO friendly URL and this blog from Alexa will explain how to create one and the pitfalls to avoid.
Domain authority (DA)
Domain authority is a search engine ranking score created by MOZ, it is a number from 0 to 100 which is attributed to your website. The DA is calculated by numerous factors and gives an indication of how well a website will rank on the SERP's. The higher the number the better and is mainly used in comparing a websites ranking strength.
It is important to note that this metric is not used by Google in determining rank.
The above glossary will help in giving you an understanding of some of the terms that may come up in your audit. As you can see there is a great deal that goes into being an SEO agency, data is collated from numerous sources and funnelled into a strategy document for implementation. There are numerous tools that can be used, however, if you don't understand how they work and what they are saying, it can be a very steep hill to climb.
Download your free guide to
Smarter SEO
Good SEO can mean the difference between your business being found, or you being lost in the growing mass of online resources. This guide is designed to help you rise above your competition.
Download now