How to build an email marketing list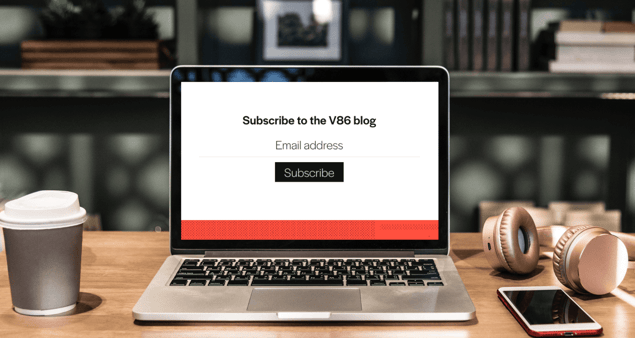 If you're just getting started with email marketing, you may not have a list of contacts to send to yet. If that's the case you may be wondering where to start. How do you build a list of people to email-market to? Luckily there are lots of ways you can grow an email list – and many of them are a lot easier than you think too.
What is an email marketing list?
A list of email addresses gathered for electronic direct marketing (email marketing) for sales promotion or marketing communication.
Even healthy email marketing databases need to be topped up. According to statistics the average email marketing database loses 22.5% of its contacts each year thanks to people moving jobs, inboxes going dormant and disengagement.

It can be tempting to buy a list, or download your LinkedIn contacts and begin to send them emails but your email marketing will perform a lot better if the contacts are expecting to hear from you, and want to receive your content.

From content offers to social media, in this blog we'll cover some simple ways to start growing an email marketing list with people that are engaged. Read on to find out more.
Content offers
Good quality content, like brochures and catalogues, are a great way to entice people to provide their email address to you. Content offers generally work by:
Publishing a blog post that features a piece of content that will go into more depth about the topic of your blog i.e a 'how to' guide.
To access this content the reader would be required to fill in a form and provide a few details. This is what we call gated content.
One piece of information that the reader provides will be their email address. Once submitted to you, they're now eligible to receive email communications.*
Simple as that! As the reader has already expressed interest in your blog content, including a content offer is an effective way to get their email address.
Pop-up or slide-in forms
Ever visited a website and a form appears not long after, asking if you'd like to subscribe to their newsletter or blog? Chances are you have!

This is a common way that many businesses like Rebel Sport go about building their email lists and getting new subscribers. Although continuous pop-ups or slide-in forms can be annoying every time you visit a website, there are ways that these can be done so that they're unobtrusive.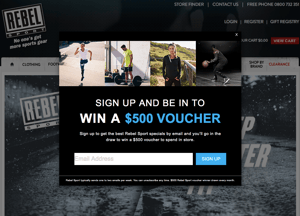 What we're referring to is onsite retargeting. Instead of providing a subscription form to everyone that visits your site, you could choose to only display the form to those that spend a certain amount of time on your site. Studies have shown that when done right, pop-up/slide-in forms can result in a 1,000% increase in subscriber conversions – well worth a try!
Homepage opt-in
Unless website visitors know the specific page they want to go to on your site, most of the time they will land on your homepage first. This is prime real estate to include important CTAs (Calls To Action) such as a link or form to subscribe to emails.

Many companies now include email subscription CTAs on their homepage, one of which is retailer The Warehouse. They choose to include theirs above the footer navigation of their homepage, which is a good starting point for those that don't want to be too obtrusive in asking people to sign up.

Social media
If you have a following on social media, why not leverage this to help build your email marketing list? People that follow you on social media channels are already interested in what you have to offer so it's highly likely that they would also like to receive extra communications from you such as a newsletter.

Make your followers aware of the content you regularly share in emails so they know the benefit in signing up, and the value they will get. You could also provide a snapshot of some of the content from a previous newsletter to further highlight the value of the content on offer.

If you have a Facebook page there's also the option to add a 'Sign up' button'. This will link back to your site so a great opportunity to get some extra subscribers that way.
Incentives
Incentives are another good way to grow your email list. By offering email-exclusive deals such as sales and discounts codes, this will encourage people to sign up to emails as they will want access to these offers. Some retail businesses even offer a discount for people as soon as they sign up for emails. Glassons offer people 20% off as soon as they subscribe which is a great incentive for those not already subscribed, to sign up.

Add a link to your 'About us' page
When visiting a website for the first time, often people will likely end up on the 'About us' page to find out more about the business. What better place to include a link to your email subscription?

Highlight to website visitors that, by signing up to your emails, they will be told about the latest offers, updates and promotions as well as the chance to find out even more about what your business does.
Email signature
If you send a lot of emails to customers then adding a link to subscribe may be another handy way to build your marketing list. This option is also a lot less confronting than something like posting to your social media pages, asking people to subscribe.

Encourage other members of your team to include the subscription link in their email signatures as well – the more people that include the subscription link, the more chances you have of gaining new subscribers.
Need some help with the final stages of your email marketing? Take a look at our email marketing checklist, full of handy information on what you should be checking, before you hit send!
*Based on local email marketing requirements such as GDPR & consent etc.
Download your free guide to
Smarter SEO
Good SEO can mean the difference between your business being found, or you being lost in the growing mass of online resources. This guide is designed to help you rise above your competition.
Download now