THE Business Awards
While Thomas was sunning himself on a beach in Rarotonga Laura and Rakesh waited nervously for the results of the Technology Excellence Awards at the TSB Taranaki Chamber of Commerce Business Excellence Awards held at the TSB Stadium New Plymouth.
Being the first year entering the awards, and having only been in business for only 2 years (1 year as a digital marketing agency) expectations weren't incredibly high. A lot of the technology Vanguard 86 uses on a day-to-day basis is new and the way in which it is applied isn't well known. Explaining the work the team does, and why it matters during the judging process challenged the team to the extreme!
It was a great surprise, and a massive honour to have been recognised at the ceremony with a Highly Commended result in the category of Technology Excellence.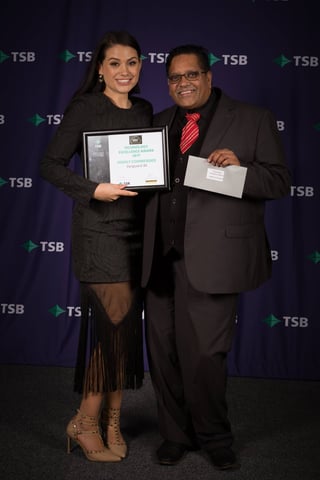 Laura and Rakesh at the TSB Taranaki Chamber of Commerce Business Excellence Awards
The team received great feedback from the judges, who commended Vanguard 86 for the growth the business has achieved in such a short space of time, and in the team's efforts to bring inbound marketing to businesses in Taranaki and beyond.
Following Vanguard 86's Honourable Mention in the Asia Pacific HubSpot Impact Awards and our Highly Commended from the Australasian Catalogue Awards in the New Zealand Home category 2017 has certainly been a memorable year for the team!
Having formally switched from being a one-man-band consultancy to a fully fledged digital marketing agency in October 2016 Vanguard 86 now services medium and large-sized businesses across New Zealand by helping them gain more inbound enquiries through leading marketing methods.
Key to this is Vanguard 86's use of world-class software to monitor, track and implement new and innovative marketing campaigns purpose built to grow sales.
The vision to approach marketing with a leadership mentality led Vanguard 86 to become a silver tier HubSpot partner agency at the beginning of the year and was further reinforced when Vanguard 86 became a certified Google Partner in the second half of 2017. Further Google certification followed in the specialisation of search advertising .
Planning for 2018 has begun in earnest as Vanguard 86 seeks to build on the solid foundation already set.
Accolades to date:
2017 - Honourable Mention HubSpot Impact Awards APAC
2017 - Highly Commended Australasian Catalogue Awards (New Zealand Home Category)
2017 - Highly Commended TSB Taranaki Chamber of Commerce Business Excellence Awards (Technology Excellence Award Category)
Other achievements:
2017 - Google Partner Agency status achieved
2017 - HubSpot Partner Agency (Silver) reached
2017 - Google Partner Specialisation awarded - Search Advertising, Display Advertising, Video Advertising, Mobile Advertising & Shopping Advertising
Download your free guide to
Smarter SEO
Good SEO can mean the difference between your business being found, or you being lost in the growing mass of online resources. This guide is designed to help you rise above your competition.
Download now