A marketing professional's first impressions of Pardot
Our team know a thing or two about marketing - it's all we do every day. As a team we have experience on many marketing platforms, after all if it's hot we're probably the first to try it out to see if it's worth recommending to clients.
This doesn't only encompass the latest social media platform but also the more mundane programmes like CRMs and Automation platforms. We've experienced Marketo, HubSpot, Zoho, looked at Sharp Spring as well as Pardot. We've dabbled in Buffer, Hootsuite, Databox and more, just to see if we can deliver marketing assets in a more efficient and effective manner for clients.
We're used to using really inefficient enterprise platforms, or having 9 different tabs open to complete something as simple as a new product launch on social, email and web. Some of us have come from household name companies, with terrible roadblocks in their processes. We've watched millions of dollars burn in inefficiencies and have felt frustrated at how a simple request to a website agency can spiral into an invoice that never ends. Juggling numerous platforms increases the chance of broken links or missed updates. Your marketing team can quickly become circus performers!
So, as marketers, it can take a lot for us to find a platform that we struggle with. It takes something being really inefficient for us to throw up our hands in frustration and recently we found one.
What is Pardot?
Pardot is a software as a service (SaaS) marketing automation platform by SalesForce offering email automation, targeted email campaigns and lead management for B2B sales and marketing organisations. Pardot was part of the ExactTarget suite of platforms, which Salesforce bought in 2013 for a reported $2.5bn.
Why don't we love Pardot?
I really need to caveat this section. Pardot is a great platform; if you are an agency that gets paid by the hour. Almost anything and everything receives a healthy dose of more time, making the billable hours model very attractive!
Let's highlight a few of these areas:
1 - Every job takes twice as long as it would in Mailchimp, HubSpot or almost any other platform that was built in the last 10 years. You cannot simply create a new email design using a drag-and-drop editor, instead every new template needs to be hard-coded in HTML. If you're a marketing person and don't know HTML you will quickly find your marketing budget is sucked up by an outsourced developer. Compare that to HubSpot where anyone can easily create emails and you can see how you might find the former frustrating.
2 - Finding help isn't easy. Every platform has its issues. You'll be trying to do something and find you can't quite do what you need. The difference comes from how easy it is to find support from an external community. HubSpot has a great community of users ready to help others, and platform recommendations often see the light of day thanks to the Ideas section of the HubSpot community. Pardot has something similar here but with ideas needing 2,500 points to go into consideration - a great idea may languish for a while until it gathers enough votes.
3 - Whereas HubSpot has blog publishing, website hosting, social publishing and SEO in one platform, Pardot will force you to host some of these on other platforms. The social publishing on Pardot is OK but your blog will need to live on another platform, your website will need to be somewhere else, and SEO will need another plugin. This is not as efficient as having everything in one place.
4 - With HubSpot, most paid licences come with phone, email or chat support. With Pardot it seems as though most person-to-person technical support is done through fixed time events with other customers. There's a web page that says email support is available but I have yet to find it.
5 - Email formatting is tricky. Pardot and HubSpot both make it really easy to see whether your email campaign is going to look good or bad on various email providers. However HubSpot's email coding seems to have a piece built-in which helps your design format across multiple platforms. With Pardot it doesn't seem to have this code and the HTML for any new template needs it added. Again, great news for any agency that bill by the hour, but incredibly frustrating if you're used to not having to do this.
6 - Flexibility isn't its forte. Carrying on a small rant, I'm going to return to the frustration that everything needs HTML. For example when a template is being built, the developer needs to add into the HTML how people can edit each element of the template, or if they can at all.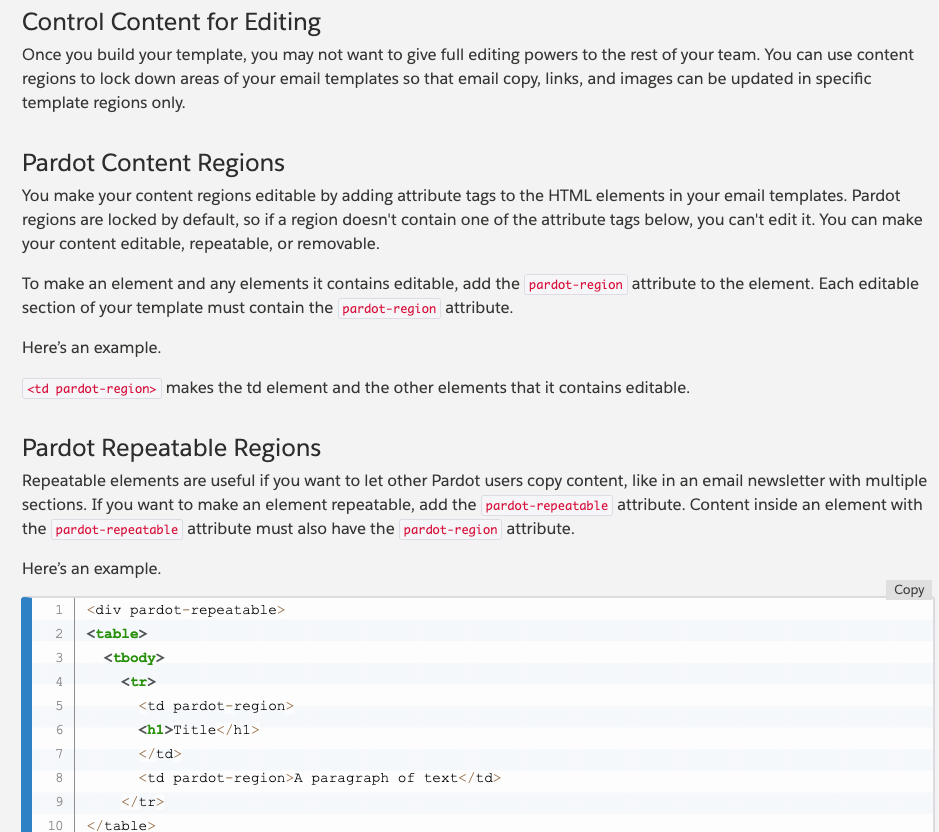 In platforms like HubSpot this can be done at template level but also at a user-permission level. Some users can have access to edit templates as well as the content within an email, and others will not be able to edit templates but can edit the content. This is much easier than knowing whether a template will need to be edited or fixed during its lifespan.
7 - Navigation. Have you ever started a job where the file organisation of a shared drive was constructed by someone else? Did you spend several weeks trying to understand why their filing logic has placed a proposal document under 'Tuesday' rather than the aptly-named 'Proposals' folder? That's what working in Pardot is like; the layout and navigation is not as intuitive as many modern platforms. If your organisation lives in Excel and still uses Lotus Notes for email then you might not see a problem, but for anyone working in software built in this decade we feel your pain.
8 - Unnecessary complexity. Forms are still mind-boggling in their complexity. There appears to be different types of forms based on where the data for the form needs to go. Gravity forms are forms which are being used for support ticket creation, Form Handlers seem to be used to send data to Salesforce where Pardot forms send the data to the marketing database. In HubSpot you have a form and the data goes into the CRM - simple!
9 - Did we mention clunky? Let's take the simple task of manually opting someone out of emails - a task some businesses undertake when they receive an email saying "please unsubscribe me from these emails". This type of communication usually comes from someone that is unable to see the 'unsubscribe' link that legally has to be at the bottom of every email. In HubSpot unsubscribing a contact manually is a 2 step process:
Step 1, find contact. Step 2, under the 'Actions' tab click 'Opt out of email'.
In Pardot you still find the contact, then click edit, then expand the Additional Fields accordion, scroll to the bottom of that list and click 'Opted Out'. In isolation this may not seem like many steps but when we timed it the Pardot process took twice as long.
In summary, Pardot can be a great platform for an internal marketing team working in a large organisation. If you're used to mundane platforms like Lotus Notes, Excel and PowerPoint then you probably won't notice the clunkiness of Pardot. It's also unlikely that you will worry too much about inefficiencies - large organisations are often quite good at slowing themselves down!
However, if you want a platform that you'll enjoy spending time in and want to be as efficient and data-driven as possible then you should consider using HubSpot instead.
As a digital marketing agency, HubSpot enables us to move away from the traditional billable hours model into a fixed price retainer. How? Because we know that we can do almost any job quickly, without clunky navigation and specialist skills getting in the way of marketing campaigns.
If you're already on Pardot and are keen for a demo on HubSpot to see just how different it is click this link.
Download your free guide to
Smarter SEO
Good SEO can mean the difference between your business being found, or you being lost in the growing mass of online resources. This guide is designed to help you rise above your competition.
Download now