How to create a Facebook page for business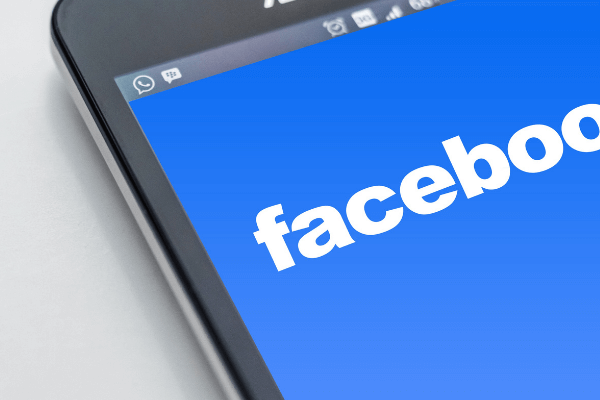 With 2.5 billion monthly active users, Facebook is an increasing necessity for businesses across the world. In fact, there are around 140 million businesses already using their Facebook business page to their advantage - so why wouldn't you too?
It should be easy enough - simply throw together a photo, a couple of posts, and expect the leads to roll on in, right?
Wrong. If you're not creating a Facebook page with a comprehensive strategy to get noticed, liked, and engaged with, the chances of actually generating leads and customers from it are pretty slim.
That's why we've outlined exactly how to go about creating a business Facebook page that will help increase your organisation's visibility, credibility, and reach. Just follow these 7 steps:
1. Open a Facebook business account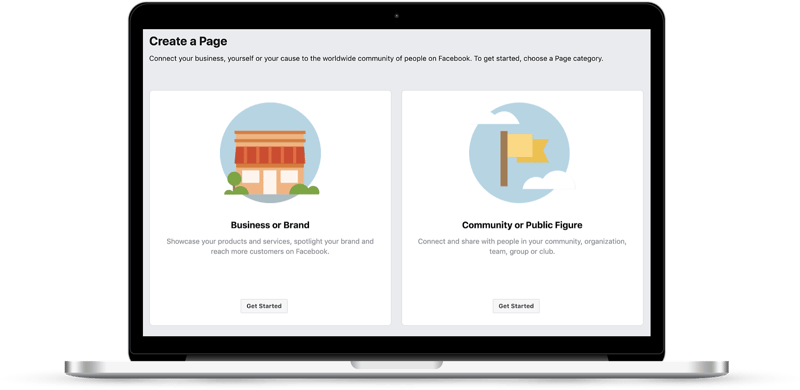 Every Facebook business account must start with a personal account. So, once you've logged into your everyday Facebook account, head over to facebook.com/pages/create. From there, simply select the type of page you wish to create (business/brand or community/public figure). In this instance, we'll be opting for the business option so click on the get started button.
You'll then be prompted to enter some basic business information such as page name and category. It's important to not skip over these smaller steps as they are critical. The page name should be something that customers will easily identify as your business; it's typical for people to use their brand or business name, and that's what we suggest you do too.
As for categories, think of a word that best describes your business. For Vanguard 86, we'd use 'digital marketing', as an example. Once you've typed out a word, Facebook will offer up its suggestions and all you need to do is select the most suitable option for your business. If your business falls into multiple categories, pick the overall most applicable category as you can only select one initially. After this, you'll be asked for a few additional details including your address and phone number. It's up to you whether you keep this information private or make it publicly visible. Just remember that this is how potential customers will find your business, so it is best practice to make it as easy as possible for them to locate and contact you.
Once you've filled in all of the information fields, click continue to move onto the next phase of your business account set-up. Be sure to read up on Facebook's Pages, Groups, and Events Policies as by clicking continue here, you're accepting these policies.
2. Bring your page to life with pictures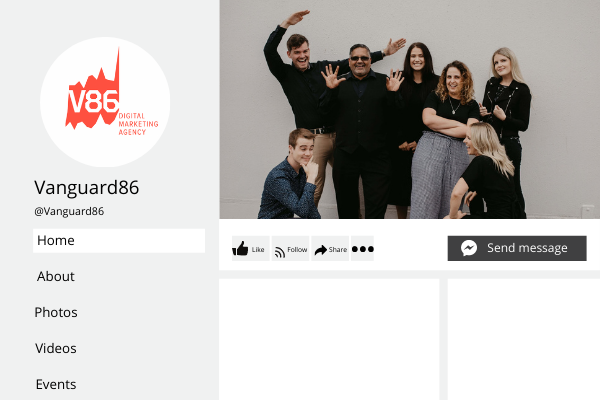 Making a good visual impression is imperative on social media. That's why you'll need to select your profile and cover images carefully.
First, you'll need to upload a profile picture. It must be easy for your audience to recognise and help people identify your company. For most businesses, we suggest using a logo. Being recognisable is vital to getting found and liked, especially in Facebook Search. It's also important to note that a Facebook profile picture displays at 170x170 pixels on desktop and 128x128 pixels on mobile, so you'll need to optimise your image to these dimensions. It will also be cropped into a circular frame, so make sure all of the focal points of the image are in the centre so they aren't cropped out. Once you've selected a winning photo, press the upload profile picture button.
Next up is your cover image. This is larger than your profile photo at 820x312 pixels on desktop and 640x360 pixels on mobile. Since this is the most visible image on your page, it should match your brand's aesthetic, tone, and personality. This could be an image of your best-selling products, a team photo, or anything that you feel truly encapsulates your business. Once chosen, press the upload a cover photo button.
Now that you've filled out the profile information and added a few images, you've got yourself a Facebook page for business (albeit, a very basic one). The next step is all about optimising your profile for business success before you publish it live for the world to see.
3. Make a username
A username helps potential customers find your Facebook business page. Otherwise known as a vanity URL, your username can be up to 50 characters long. It should be easy to remember and as concise as possible. Most people make use of their business name, which is what we recommend. Simply tap on create page @Username in the menu to the left to set up your username.
4. Flesh out the details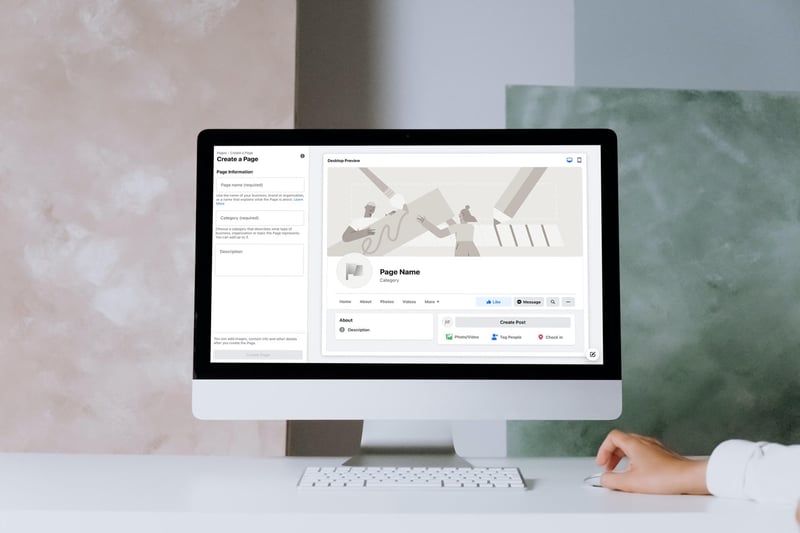 It's time for the nitty-gritty stuff. While it can be time-consuming, it's important to enter everything you can about your business into your profile. Providing accurate information will make it easier for your customers to interact with your business. This entails filling out every section in your page's About section.
Click the Edit Page Info button in the menu to begin filling out your information. The Description is a few sentences (255 characters maximum) that summarises your business which also appears in search results. The Contact section is where you can add all of the contact information you want the public to see, such as phone number, email, website, etc. If you have a brick and mortar store, or a physical office, make sure that the Location section is filled out with your address. You can also include your service areas here. Be sure to fill out your operating hours in the Hours section so customers know when to visit or contact you. In addition to the core category you selected for your business earlier, you can now select supplementary Categories that align with your offerings so Facebook knows who to show your page to. There are a few extra options, including price range and privacy policy which you should include if they're applicable to your business.
We also suggest adding a call-to-action (CTA) button to your profile. Facebook has a built-in CTA button which means customers can easily get what they're looking for while allowing you to subtly push them in the right direction. There are various options for the CTA button, from learn more, shop now, download, to book an appointment, so choose what works best for your business.
Once all of the above information has been filled out (and to a high standard), click Save Changes after completing each section.
5. Storytime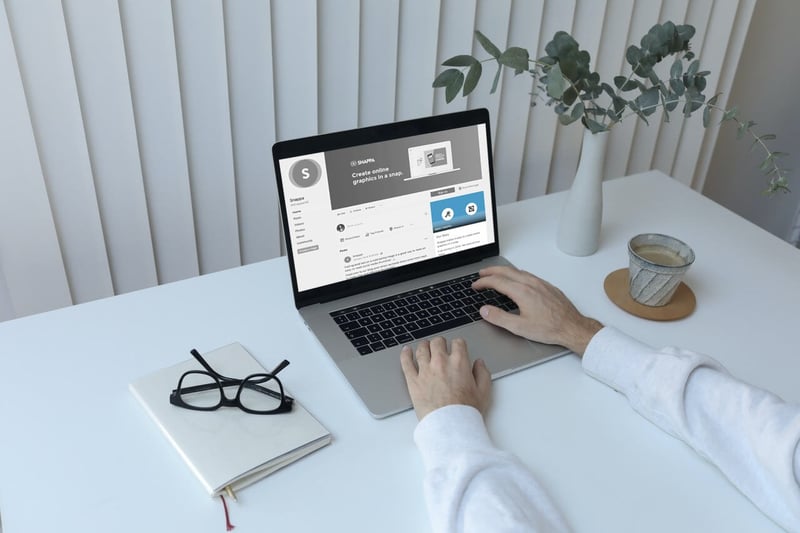 Image sourced from blog.snappa.com
While all of your business details and information are now accessible on your page, it's now time to let your brand's personality and point of difference shine through.
The Our Story section allows you to explain to customers who you are, what you do, and why they should engage with you. It has a 128 character limit, but only the first 100 characters will be displayed unless people click the Read More button. So you've got to make those first 100 characters count. Express your brand's personality and what customers can expect from you. This is where to convince Facebook users of why they need to like or follow your page.
To add to the Our Story section, navigate to the left menu, click About, then click Our Story. Once you've perfected your copy, upload a relevant photo and click Publish.
6. Start posting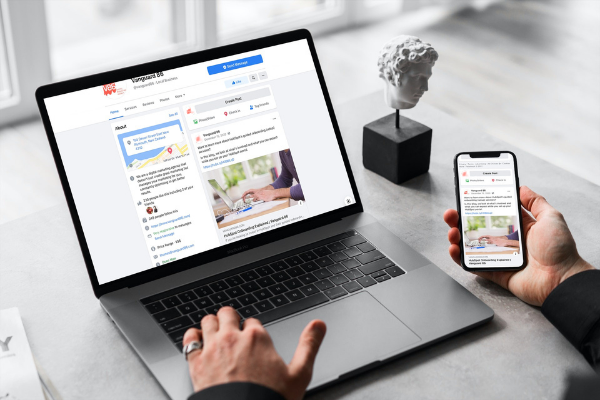 The last step before publishing your Facebook business page is to create and post some relevant, helpful, and quality content. This can be a mix of unique content and shared content from authoritative people in your field. The most crucial aspect of posting Facebook content is that it offers value to your followers (and potential followers) as this will entice them to stay. To make a post, click on any of the options in the Create box at the top of your page. You could post an image, video, status, update, and more.
7. Go live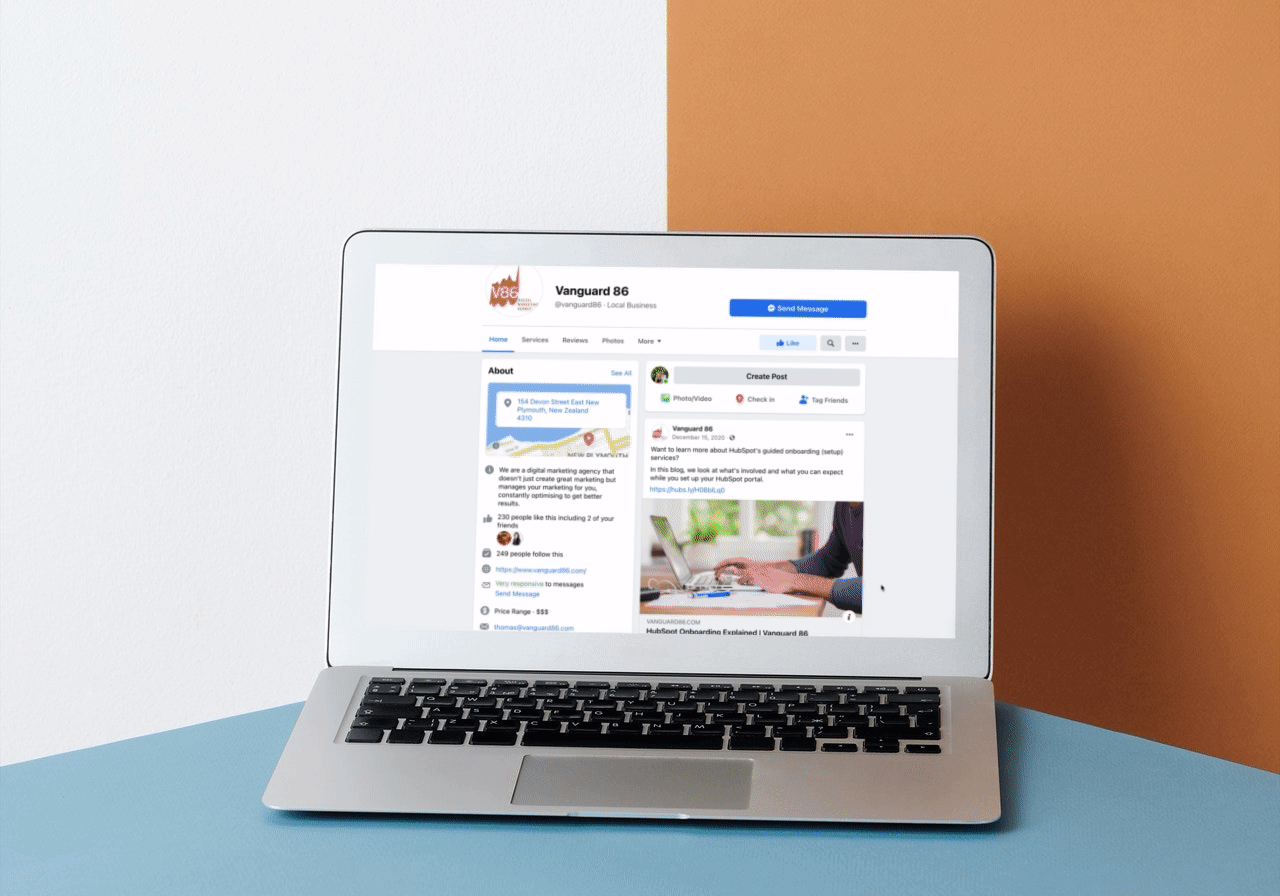 That's it - everything you need for a complete Facebook business profile is now done. It's time to click on the Publish Page button and make your page live for the world to see. You should now have a Facebook page for your business that increases your brand's credibility and entices potential customers to not only visit your page but stay on it.
Creating a Facebook page for business is only the tip of the iceberg. Now that you're all set up, here are some hints and tips on getting the most out of your Facebook presence.
Getting the most of your Facebook presence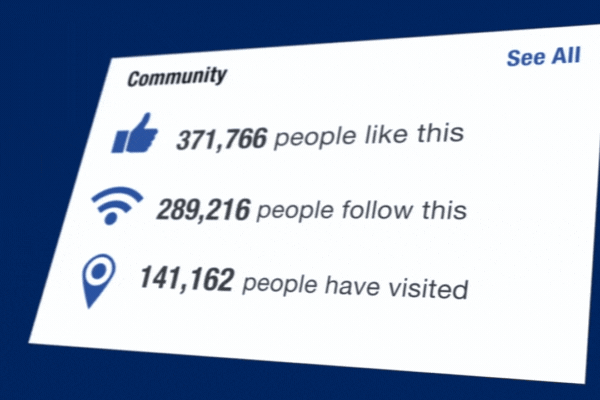 Create an auto-reply on Messenger
Your page's average response time (how long it takes you to reply to a message) appears in the About box to the left of your profile. Most businesses don't have the luxury of time to sit on Facebook all day waiting for messages, which is why we suggest you create an automated reply. By doing so the person who is trying to contact you will get reassurance that their message is important and that you'll respond as soon as possible.
Stop people from posting inappropriate language on your page
By clicking on Settings (in the drop-down menu on the top right-hand corner of your page), then selecting the General tab you will find the Profanity Filter. By selecting Strong, any comments using any inappropriate language will be filtered out.
Responding to negative Facebook reviews
Gaining customer feedback is an essential part of business. A positive review is always nice to receive, but the negative ones are where you learn to grow. However, when these negative reviews are publicly available it can look poorly upon your business. That's why you must take a cautious approach to responding to negative reviews.
The first step is replying. You must always reply to negative reviews or comments and do so in a timely manner. Issues can be escalated if not handled efficiently. Replying acknowledges that you've heard what the customer has to say and are willing to right the wrong.


You'll also need to be empathetic, even if you disagree with their complaint.


The next step is to take the issue offline. Once you have replied to their review it's best practice to contact them either by phone, in person, or if that isn't possible, by email. This will enable you to understand the problem at hand better and come to a solution more promptly.
There's also software available to help with negative reviews. For example, Review Tui enables businesses to create customisable surveys and links to those surveys in emails, web chat, or even in digital invoices. If someone's had a bad experience a member of staff is alerted so they can solve it before it becomes a public problem. If there are no issues the respondent is encouraged to leave feedback on a public review site, like Facebook.
Harness the power of imagery
It's no secret that visual content is dominating social media right now. After all, Facebook posts containing images see a 2.3x higher engagement level than those without. Posting compelling and high-quality visual content is one of the most important things you can do to improve your social media strategy.
Like other business pages
This is a great tool for B2B (business-to-business) pages and to become known by other businesses that you would like to interact with. This enables you to build rapport with businesses who can help you (i.e. aren't your direct competitors), and who you can help in return.
Always have a call-to-action
Every post should make clear the desired action you want viewers to take, whether that be to shop now via the link, like or follow your page, share the post, or head to your website. Including a call-to-action will enable you to measure the effectiveness of your posts by seeing how many people took the desired action.
Now that you've mastered how to create a Facebook page for business, as well as knowing a few of our top tips and tricks for getting the most out of your Facebook presence, you'll need to see how this can fit into your social media strategy. Facebook is one component of a wider strategy, so understanding how this fits and how to maximise your efforts across all aspects of social media is critical. Simply click on the link below to learn how to create a social media strategy.
Download your free guide to
Smarter SEO
Good SEO can mean the difference between your business being found, or you being lost in the growing mass of online resources. This guide is designed to help you rise above your competition.
Download now