How do I use the HubSpot CRM?
HubSpot is a leading Customer Relationship Management (CRM) platform that allows users to integrate and monitor their customer data, sales funnels, and communication in one centralised place.
When it comes to a CRM platform, it's critical to use it to its full potential. In the case of HubSpot, there are an impressive number of tools and applications that can lead to business success. However, in some cases, businesses may not be making the most of them.
To help you get off on the right foot we're going to show you the following tips and tricks:
HubSpot has the power to transform a business by providing automation, easy-to-read customer data, and integrating all the tools used throughout the sales and marketing processes. The following tips and advice will help you make the most of your HubSpot CRM.
HubSpot CRM best practices
Before integrating all the tools available in HubSpot, it's important to ensure you're following a few basic best practice guidelines. Here are four steps you can take to set your HubSpot CRM up for success.
Ensure all team members are users
HubSpot doesn't charge you per user, so make sure all team members that deal with customers are added as users in HubSpot.

You can set custom permissions and restrict what different users can see/do. This will ensure that no one breaks or makes changes to anything they shouldn't be using, but ensures that everyone is able to update and act upon the wealth of information HubSpot can provide.
Assign owners to contacts
To ensure your customers are looked after, HubSpot allows you to assign one of your employees to take care of their transactions and communication. By assigning owners to your contacts, you can ensure the right people connect with leads quickly so that their interest turns into a sale.
With HubSpot, assigning owners to contacts is quick and easy, and ensures no customers are forgotten or overlooked. In the fast-paced world of business, this dramatically cuts down on delays and recurring problems because customers can be assisted in a personal, one-to-one way.
Input information correctly
The HubSpot CRM is clever, but there's only so much it can do on your behalf. When entering data into the CRM, ensure it's correct and formatted properly. This includes:
Spelling the first name correctly,
Capitalising the first letter of each name,
Ensuring the first and last names are entered into separate fields,
Not entering the company name into the contact name field.
Many marketing emails sent from your HubSpot account will use the first name entered into the CRM to personalise the email. If you've spelt it incorrectly or used the full name, a job title, or office instead of just their first name then this could create issues — as seen in the image below.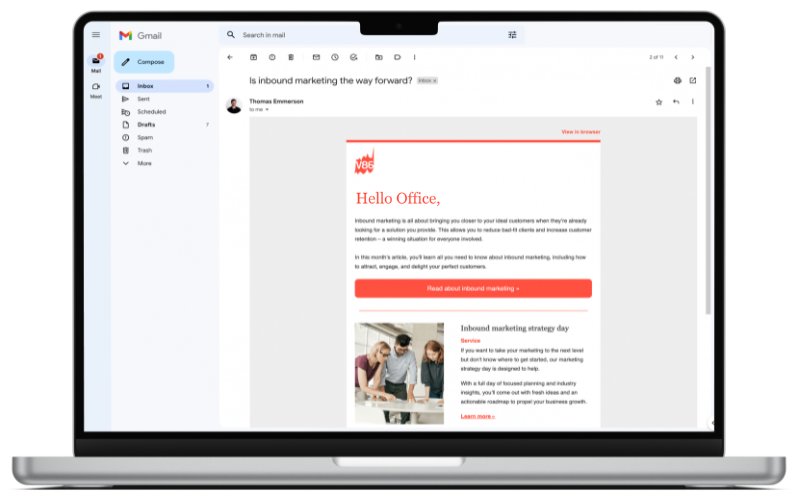 Associate relevant records
Contacts, companies, and deals (opportunities) are three separate entities in HubSpot. However, you can easily associate these with one another to show how they interconnect — for example, doing this means you can see all emails to all contacts at a company from within the company record and you can see all the contacts in your CRM at a company within the company records. It makes more information easily accessible for your team.

Regardless of which record type you're in, you can associate it with one of the other record types by clicking '+ Add'. Doing so will open a search bar where you can find the relevant contact, company, or deal and link it up.
Associations are always two-way which means once you've associated a deal with a contact, it will automatically show in both the deal record as well as the contact record.
Handy hint: Associating contacts and companies can be automated by HubSpot with a visit to your account settings. HubSpot will use the company email address (ie XXXX@vanguard86.co.nz) to create a company and associate that contact with the company. Saving time and effort while keeping your associations correct!
Tricks for managing your HubSpot CRM
Now that we've addressed some of the simple best practices, let's look at some tricks for managing your CRM. There are several things you can do to make adding and managing contacts painless for your team. These include:
Using the HubSpot sales extension
Separate from the general HubSpot platform is an email extension that allows you to connect to your HubSpot CRM through your Gmail or Outlook accounts. This way, contacts can be automatically added to the CRM as you email them. You can track emails sent, see contact records, and use the HubSpot sales tools directly from your email account.
For example, you can search your entire contact database and initiate calls, without having to leave your inbox.
The HubSpot sales extension allows you to:
Log and track all emails sent and received.
Use contact profiles and assign tasks to them.
Use sales tools in emails, including templates, meeting links, payment links, sequences, and allocated tasks.
Embedding HubSpot forms into your website
If your website has contact forms, then changing those to HubSpot forms will create significant efficiencies for your business.
A HubSpot form collects all the same information that your current website form does but upon submission, it will create a new contact in the CRM and store the form submission against that record. No more double-handling of information and the sales or customer care team can look back at the form submission for more information.
While doing this is easier if your entire website uses the HubSpot CMS you can easily embed forms on non-HubSpot websites too.
Utilising HubSpot's static and smart lists
When it comes to organising contacts, HubSpot lists are invaluable. This tool allows businesses to create lists of contacts or companies based on certain characteristics and criteria, which helps to sort and analyse data.
You can choose between smart and static lists:
Static lists are a list of contacts who met set criteria at the point when the list was saved. Static lists do not update automatically, so new contacts that meet the criteria will not be added to the list, and contacts who no longer meet the criteria will not be removed. However, contacts can be manually added and removed from static lists.


Smart lists are a list of contacts that automatically update depending on specific criteria. Contacts are automatically added to the list as soon as they fit certain criteria and will be automatically removed from the list when they no longer meet the set criteria.
Other tools in HubSpot rely on these lists to function, such as sending a marketing email to a list of contacts or sending customer satisfaction surveys.
Some common applications of HubSpot lists include sending a marketing email, creating a record of inactive contacts, assigning workflows, and creating advertising audiences.
Setting up saved views in HubSpot
If you find yourself frequently applying the same filters to see certain contacts, then a saved view could be perfect for you. To create one simply add the applicable filters then click 'Save view'. This will then appear as a view option for future use without you having to apply the individual filters each time.
This is perfect for sales reps that manage a certain territory, seeing everyone at set companies, or viewing contacts that have given good feedback scores.
Customising your record view
When you look at a contact, company, or deal there is important information on the left side in the about section.
Not many people realise that this 'about' section can be customised for each individual HubSpot user. After all, what's important to a sales team might not be as important to a marketing person, and instead of a massively long list of default properties, each user can customise what they see.
To do this simply scroll to the bottom of the about section and click 'View all properties'. Once there you can reorder the properties using the dots highlighted in blue, or remove the property using the X. Add more properties by searching for the information in the search bar, hovering over the information you want to add, and clicking 'Add to your view'.
The key to business growth
The HubSpot CRM is an exceptional tool for building business success because it streamlines everything in the customer journey and ensures wasted time is kept to an absolute minimum.
Now that you've learned how to get more from your HubSpot CRM, why not tap into the world's largest professional networking site to generate leads for your CRM? Check out the free content below to learn more.
Download your free guide to
LinkedIn for beginners
LinkedIn can help you grow your personal reach and showcase your expertise. By sharing your knowledge in your field, and adding value to prospects, you can even use it to generate leads. Learn how in this guide.
Download now