How you can get HubSpot for FREE!
Who doesn't like something for nothing? And if your marketing budget has already been allocated then finding anything that can give you a little marketing edge without needing more money sounds like music to most marketer's ears.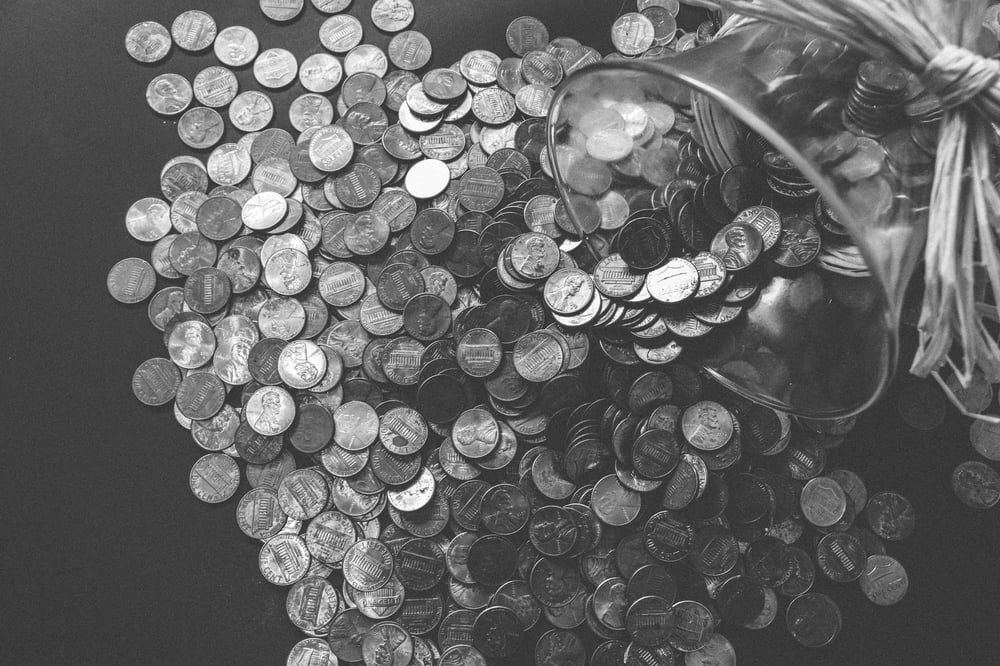 It's not just the marketers that like a good freebie, business owners and sales teams will happily take almost anything that doesn't have a price tag attached - so long as it makes their lives easier.
HubSpot is not the cheapest software on the planet but it can be easily justified by the value and opportunity it brings a growing business. Even so, wouldn't it be great if you could have a slice of the pie at no cost?
Well now you can.
Back in September of 2017 HubSpot hosted its annual conference called 'Inbound'. If you gazed past speakers such as Michelle Obama and Ed Catmull of Pixar fame you would have seen a small raft of changes to the services HubSpot offers.
Chief amongst those (and the focus of this blog) was that HubSpot was going to start offering more of its services for free.
HubSpot CRM
HubSpot launched a free CRM early on. That's right, instead of paying for the likes of ZOHO or ACT you could have a free CRM from one of the best marketing platforms around. Ditch the spreadsheet and use a platform that actually works!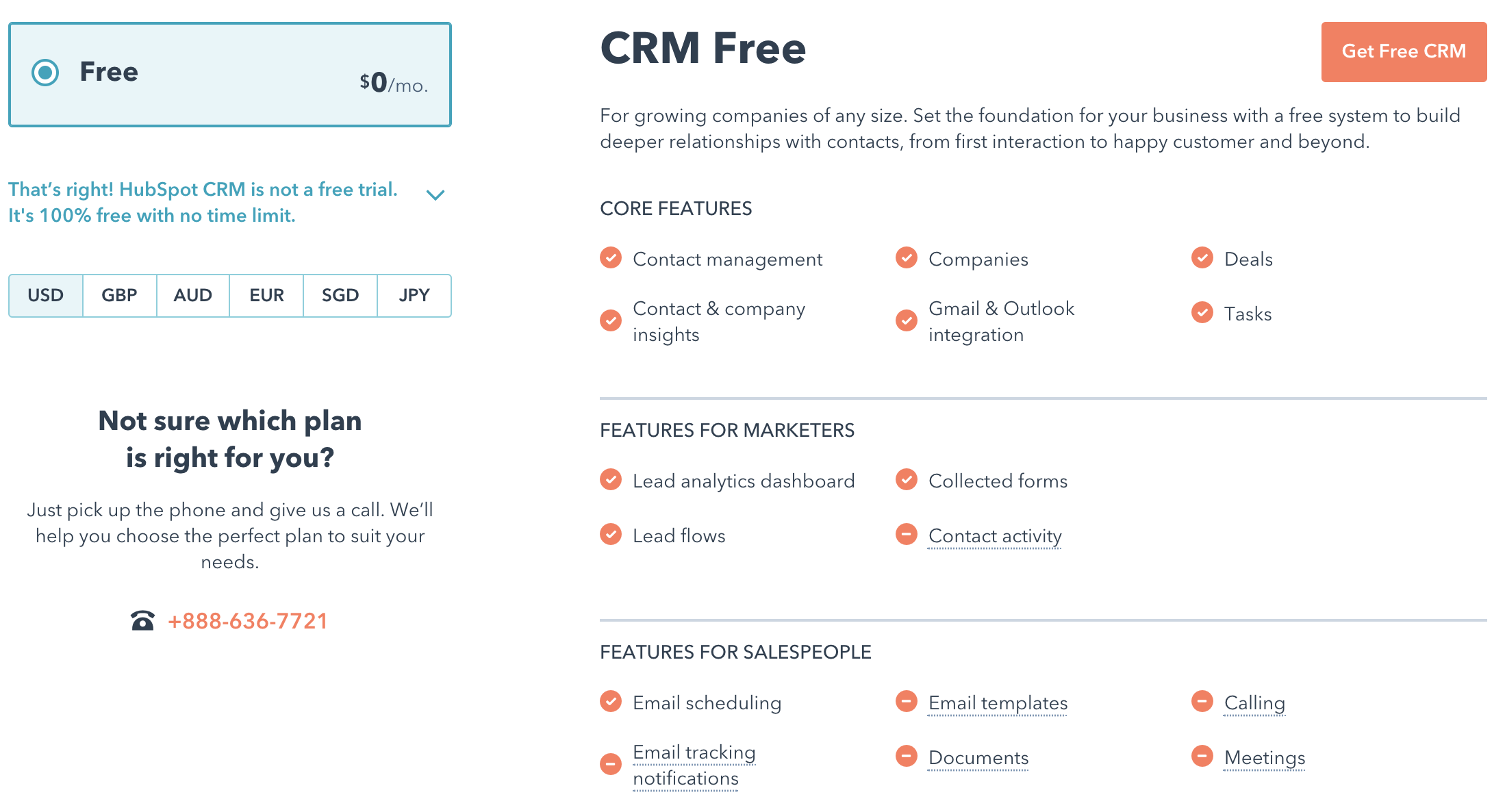 I know what you're thinking, it must be packed with hidden costs. Well, not really. You can have unlimited users on your CRM, so your whole team can access the CRM and it's cloud-based so they can do it remotely and you won't be charged per contact either. Unlike the Marketing Hub platforms you can store heaps of contacts.
The next free tool from HubSpot which will make life easier is Sidekick (now called HubSpot Sales). Sidekick is an extension on your email client (Gmail or Outlook) which has a number of really cool features.
Have you been emailing a customer or prospect and then had to type a heap of notes in your CRM so there's a record of your efforts? Now you don't have to! If selected to do so Sidekick will send a copy of the emails you send people to their profile in your HubSpot CRM. Oh you can also schedule the email to send later if you want.
What's more it will show you when the recipient has opened the email so if you attached a quote you can see if they're checking it out. Or you might be chasing them for an invoice and Sidekick will enable you to see that they're reading it but ignoring you!
Sidekick can also show a preview of that contact's CRM profile as you're writing and email to them in Gmail or Outlook. You can even edit their CRM profile as you're typing the email! Say goodbye to tedious CRM management with this free piece of software.
Sales Hub
Outside of the free CRM HubSpot also offers a free version of its Sales Hub.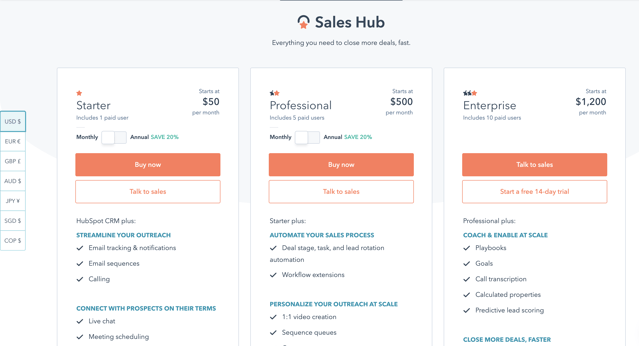 The Sales Hub is where your business prospects live. Here you can create Deals (Opportunities), and access a great range of insights about the companies and contacts you're working with. You can also create 5 email templates which can save even the busiest sales person time! Templates allow you to write a generic email but insert personalisation tokens from the CRM to save you time changing details. The best news is you can access these from with your Office 365 Outlook account or Gmail.
Check out one we created for a business that uses us to manage their HubSpot marketing.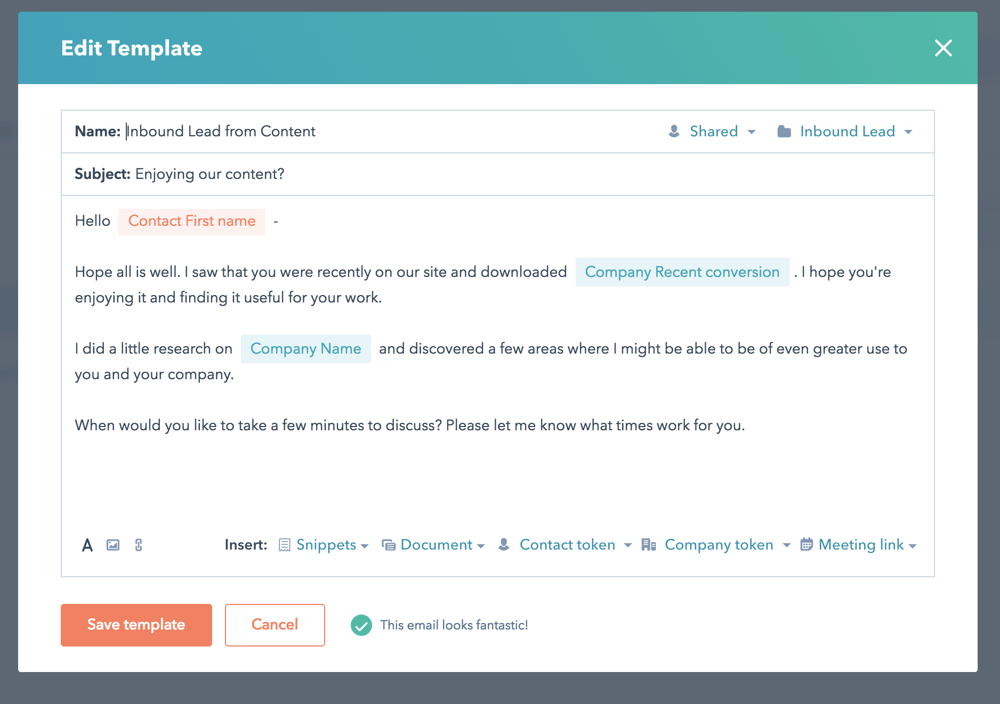 You can create tasks for yourself or other users and they'll get an email notification when one is due. You can also store documents in the system and attach them to your emails, to then see how people are interacting with them. Are they interested in your quote? How long have they spent digesting your proposal?
Marketing Hub
You can even get your hands on the Marketing Hub for free!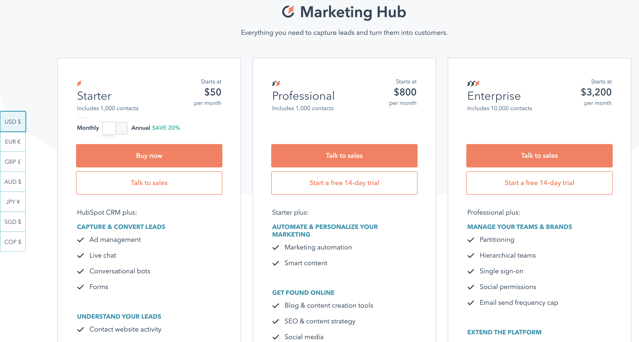 The marketing Free with HubSpot gives you some basic forms to embed on your website (with default fields) you can also check out top level marketing performance on the dashboard. Want to really see if HubSpot could be right for you? Download our free HubSpot checklist by clicking the image below.
Download your free guide to
Smarter SEO
Good SEO can mean the difference between your business being found, or you being lost in the growing mass of online resources. This guide is designed to help you rise above your competition.
Download now