How to get sales from LinkedIn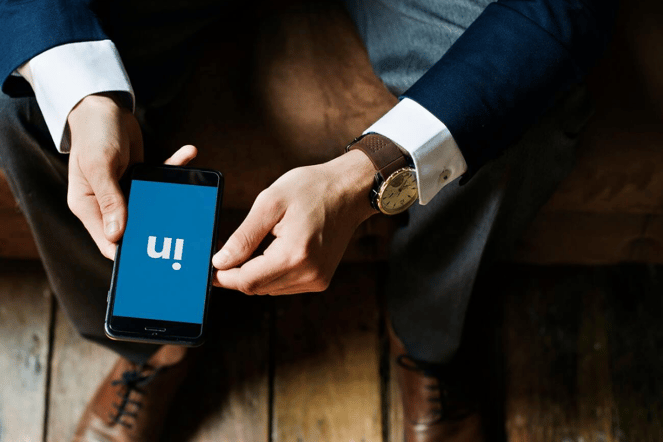 If you run a B2B company, then LinkedIn can be a great tool for networking and finding new opportunities. But faced with the prospect of where to begin many people feel stuck. This blog is aimed at breaking that deadlock and giving you some actionable ideas on where to begin when marketing your business, and yourself, via LinkedIn.
With over 722 million members and 76% of those living outside the US, LinkedIn is the perfect tool for growing a national, and global, reputation as a leader in your field. Bearing in mind that 4 out of 5 people on LinkedIn drive business decisions, getting them to trust and value your expertise could mean the next big opportunity for you and your business.
Do your research
While it's an exciting thought to convert your LinkedIn account into a new lead generation and sales asset, it's important to remember that the purpose of LinkedIn is to build connections with like-minded professionals. Before sharing, liking, or commenting, take a step back and understand primarily why you're on LinkedIn.
With that in mind, finding potential customers on LinkedIn is really easy, you just have to know where to look. If you're looking for new clients take the time to research their company and understand how you can add value to them. Remember that everyone thinks their business is unique and you need to show that you understand that and convey how you are uniquely positioned to help their business grow.
Connecting with prospects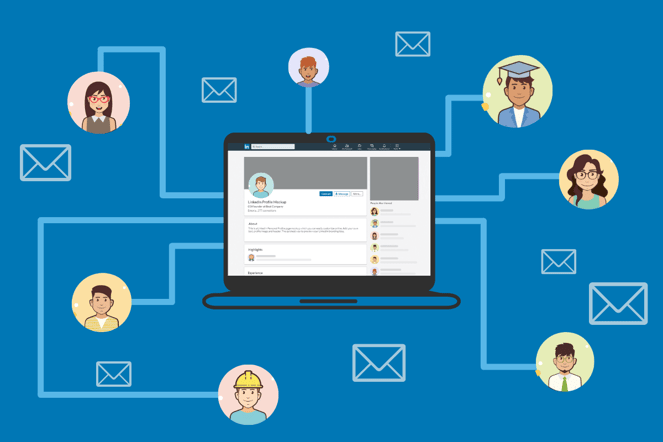 In most cases, you can't connect with someone you don't know. However, there is a way around that. If you search someone's name in the search bar, you'll be presented with a list of possible matches. Clicking 'Connect' will enable you to send a connection request without having to say where you know them from. In this scenario, it's important to include a personalised message when you connect, so they know why you're reaching out to them.
Connecting with people can't be approached in the same manner you would conduct an email blast. Sending 100's of connection requests to total strangers won't end well. LinkedIn will spot your suspicious activity and your account could be penalised. It's best practice to spend a small amount of time (even just a few minutes) every day or two clicking the 'connect' button on the 'people you may know' list that LinkedIn displays on your feed.
These few minutes spent on LinkedIn every day or two can accelerate the building of your lead list. Simply looking at the connections your contacts have can offer up some like-minded leads for you to build a rapport with. Another simple LinkedIn lead generation tip is to connect with your current clients and prospects. You'll be able to see if they have a company page which you can then follow and keep an eye on as well.
Always have a next step
Simply connecting with someone isn't enough. If they accept your connection request make sure you have a next step planned. Sending them an email thanking them for connecting is a great start, but using some of the information you gleaned in your background research will make a lasting impression - what role are they in? Who are their colleagues? Any real-life connection you can make between yourself and this contact will solidify your LinkedIn connection and start warming up this potential lead. It's a chance to reach someone on a personal level and begin to build a rapport with them.
Engage your connections by offering value
Make a point of noting if they like or share certain pieces of content on LinkedIn, and then create or share content that they may be interested in. As huge advocates for the inbound marketing methodology, LinkedIn is the perfect platform to continue lead generation with content marketing. By this, we refer to creative content that provides value to prospects, without begging them to purchase your product or service.
Publishing content to LinkedIn, such as an infographic, sharing a blog post from your organisation, or posting a status update to keep your connections informed about a recent change is a highly successful way to generate leads. Quality and informative content emphasises your expertise to prospective customers. By demonstrating your breadth of knowledge and willingness to solve customer problems with free LinkedIn content, leads will be more likely to engage with you. This is an integral part of any social media strategy.
The only pitfall to this approach is that it can be time-consuming. However, the potential gain really outweighs this. A LinkedIn audience is like no other - it's a highly-receptive audience of professionals who are eager to learn new things and are willing to do business.
Join LinkedIn Groups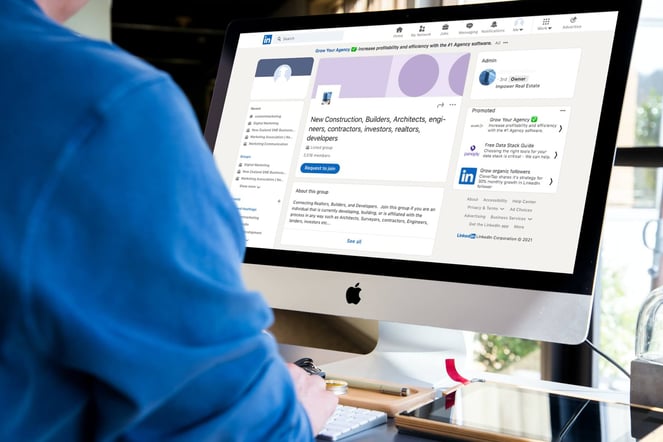 When you think about LinkedIn groups, what comes to mind? A group of professionals with a similar interest. Finding a group that aligns with your business is an excellent tool for generating quality leads. A Linkedin group could have thousands of your ideal prospects awaiting. Joining this group and posting more relevant and helpful content will make leads to gravitate towards your profile to find out more.
Maintain your relevance and consistency
LinkedIn requires your constant attention; just because a pool of leads starts trickling in doesn't mean your work is done. You need to continue your conversation with prospects by posting regular and relevant content. A simple morning 'update' or image post once every few days will help to maintain your Linkedin presence. This could be linking to your latest blog posts, an interesting article, or posting new (and relevant) video content from your brand. If your company publishes updates and content to LinkedIn then simply sharing those posts will be hugely beneficial.
These updates are not a place for you to advertise or sell, but for you to continue providing helpful content to your connections. The idea here is to add value with each update and generate conversation around your brand.
Consider a LinkedIn Premium account
A premium account could be worth your while if LinkedIn is a primary lead generation tool for your business. It will provide you with additional features including InMail, advanced search, company insights, and the ability to see who's viewed your profile and their information. InMail is arguably the most beneficial tool for lead generation as it enables you to message people who aren't already in your network. Also, by knowing who has recently viewed your profile, you are able to pool together some warm leads since those who have viewed your profile have displayed a clear interest in your business.
However, a premium account is certainly not a necessity. If you're new to LinkedIn, it's best to test the waters before jumping right in. Although, if you're noticing good results from the platform, a premium account could accelerate your efforts.
Common LinkedIn Pitfalls
While Linkedin can be your greatest asset it could also hinder your ability to grow your business. With it being so public, and your actions visible by many, saying or doing the wrong thing could be disastrous! Here are a few things you should avoid doing if you want to grow your business on LinkedIn.
Avoid contentious views
Many of your customers and leads may be put off working with you if your political views are antithesis to theirs. It may be tempting to slam the government's latest policy but what if your largest client is positive to the policy? If you want to put forward an opposing view do so in a balanced and well-reasoned manner. Calling someone an idiot on social media makes you look bad, not them.
Don't spam
If your first two or three attempts to connect with someone have failed don't flog a dead horse. Use the final message to say that you respect their decision to not respond and will be available to chat should their needs change. And leave it at that.
Harvest carefully
If your primary goal is to gather contacts from LinkedIn be careful of your next step. Harvesting email addresses to add to an email blast might result in many spam reports as people won't expect to be contacted by your company. Collecting email addresses isn't a bad idea, but should be followed by a personal outreach. After all, their connection is with you, not your marketing team.
Don't sell out
You may see other LinkedIn users doing TikTok dances or various challenges to gain attention. Just because they're doing it doesn't mean you can't be successful on LinkedIn by copying them. Stay authentic to the type of user you want to be. If that means jumping on the latest craze then do so. Before doing something remember that the internet is permanent; will you be embarrassed to look back on your actions now in 5 years time? Would you want that post/video to come up in a job interview later?
LinkedIn is full of great opportunities for generating leads that will later convert into sales, if it's managed correctly. Understanding who your buyers are, and what you do to reduce their challenges is absolutely key to a great social media strategy.
Not sure how to get started identifying your potential buyers? Download our free buyer persona guide for the full low down on creating your own buyer personas.
Download your free copy of
How to build a buyer persona
Learn how to build buyer personas to help you create marketing that really speaks to your target audience.
Download now