What is search engine marketing (SEM)?
27.03.20
by Rakesh Patel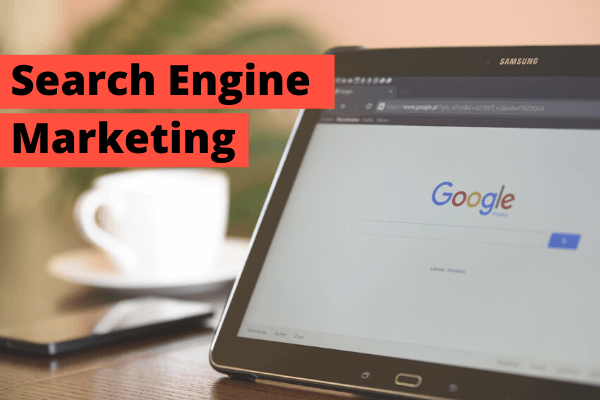 Today, search engines have become an integral part of the World Wide Web. Information searches are, together with email communication, the most dominant activity on the Internet. It is common for those who search for information, products, or services on the network to automatically go to search engines such as Google, Bing, or Yahoo. Thus, those who do not appear in the lists of their results will hardly attract the attention of potential clients. For businesses looking to attract new customers, positioning on the results page is of utmost importance. This is the best way to attract as many qualified visits to your website as possible.To improve the visibility of a page to search engines, there are various practices included within Search Engine Marketing (SEM).
Strategies that seek organic positioning in the search engines, also known as Search Engine Optimisation (SEO)
Payment for search engine ads and contextual advertising (targeted advertising) from Search Engine Advertising (SEA)
How Does SEM Work?
Search engine marketing is currently an important channel for digital marketing. SEM approaches advertising actions in a completely different way than traditional channels do. While display advertising, email marketing, or social media advertising are defined, such as offline advertising as Push Marketing strategies, SEM acts as a Pull Marketing strategy.
In traditional advertising, the user receives advertising messages without having asked for it. In other words, users are "pushed" towards a certain product. The user who executes a query in a search engine either to "buy shoes" or "order food at home," expresses an intention to acquire something. Consequently, the advertising that appears linked to this search is considered a valuable target for the user, unlike traditional ads, which do not allow adequate targeting of the recipient. This increases the effectiveness of this type of marketing activity.
SEM For The Most Common Search Engines: Google & Bing
In most countries, a single provider dominates the Internet search engine market. According to Alphametic, the world leader today is Google, however, in some countries, this is not the case. Most countries see Google with more than 90% of the total market share followed from afar by Bing and Yahoo. Consequently, Search Engine Marketing focuses primarily on actions that improve your visibility on Google's results pages. For its part, Bing, a product of the giant Microsoft, has achieved remarkable relevance in the American market, where between 10-30% of queries on the web are made through this search engine. Russia and China deserve a separate mention as their own search engines, Yandex and Baidu respectively, have been at the top of their markets, although in the rest of the world, they do not play any role.
How Are Search Engine Advertising (SEA) & Search Engine Optimisation (SEO) Different?
As branches of Search Engine Marketing, Search Engine Advertising, and Search Engine Optimisation have the same objective - to achieve greater visibility and qualified visits to a website. However, both of these strategies use completely different actions and instruments. While SEA focuses on paid ads, visually and spatially differentiated on the search results page, SEO strategies focus on the adjustments and settings that allow for improving the ranking of a web page organically. For SEO, search results are decisive since they do not depend on advertising, but originate from an algorithm programmed to detect and measure the relevance of web pages.
Search Engine Marketing Through Search Engine Advertising (SEA)
In many of their searches, users receive a series of ads above organic rankings in the search engine results page (SERP's). These are differentiated on the top, and bottom, and are closely related to the entered keywords. The costs linked to this type of advertising constitute the main source of income for search engines. However, unlike traditional marketing, the cost does not originate when activating an ad, but when a user clicks on the link that leads to their website, this is called the Pay-Per-Click (search advertising PPC) model.
The price per click is not fixed but is determined in a bid that takes place constantly in Google AdWords, and its value is not decisive for a website to appear in the list of results. In its quest to offer the users meaningful results, Google regulates the order of the ads with what is called Quality Score (QS). Quality score is the ratings Google gives based on a number of factors including ad relevance to the keyword(s) used, expected click-through rate (CTR), and landing page experience.
Search Engine Marketing Through Search Engine Optimisation (SEO)
To be present in organic search engine results, much more complex actions must be carried out. These actions are known as Search Engine Optimisation strategies. These encompass efforts focused on On-Page and Off-Page optimisation aimed at optimising the page itself and external links, respectively. But what are SEO On-Page and Off-Page actions?
SEO On-Page Actions:

It refers to the qualitative optimisation of the website content as well as keywords and design. Technical (or programmatic) adaptation to a friendly page structure, including the Header, HTML tags, and internal links, is also included in SEO On-Page actions.

SEO Off-Page Actions:

Off-Page actions comprise the optimisation of inbound links according to quantitative and qualitative criteria and the promotion of the presence on social channels through so-called social signs.
Is Search Engine Marketing Sustainable?
As compared to other digital marketing channels, SEO has a great advantage in terms of sustainability. Search Engine Marketing delivers instant results as long as you have an adequate budget for the job. Furthermore, a successful SEO strategy guarantees qualified visitors, even after having implemented the different optimisation strategies. Once a page has been positioned advantageously in the results, thanks to a good SEO job, the influx of visitors is likely to remain stable for years. The actions of SEA and display advertising, on the other hand, generate visits during the period of time for which they are intended.
All in all, Search Engine Marketing can be a lucrative tool to increase your visibility in the online world and also to attract more audience to your website.
The team at Vanguard 86 are here to help, please feel free to contact us to discuss your requirements.
filed under Website