What is a Google Partner agency?
Agencies that manage search engine optimisation or Google AdWords for businesses will proudly display their 'Google Partner' badge, but what exactly does it mean for you? Why should you care about someone being a Google Partner Agency?

In order to qualify as a Google partner an agency must fulfil certain criteria, this includes:
Manage a spend of $10,000 USD over the last 90 days
Have at least 1 certified Affiliated individual
Meet performance criteria
Only when an agency meets all of the above criteria are they eligible for the Google Partner badge.
It is possible for smaller agencies to be as qualified as larger agencies but not have the Google Partner badge so there are a couple of other things you might want to look for when assessing who to partner with to deliver improved AdWords results.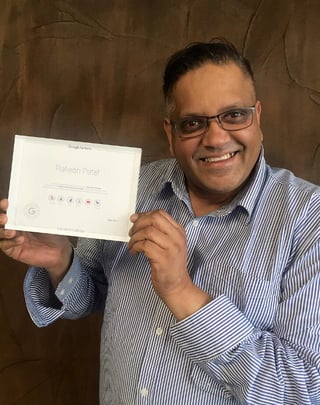 Certifications:
You can acquire certifications in specialist areas of Google products. From mobile advertising, video, search and display each requires different approaches to maximise results. Gaining certification in all of the specialist avenues gains you the Specialist award, a cool perspex award that recognises your expert knowledge.
Budget:
Big agencies may not have these specialist masters of AdWords but they may manage big budgets for many organisations in a wide array of industries. This is worth considering as their practical application of budgets and keyword competition can be very useful.
Competitors:
AdWords is mostly about bidding on keywords so you rank higher than your competitors. If your AdWords agency also works for a key competitor then they're basically having the two businesses compete against each other, which might drive up the cost per click - the amount you pay for each visitors to your website from the ad. Make sure your competitors aren't also managed by the same agency.
How much does it cost to use an Adwords agency?
As with anything prices can vary hugely. A small boutique agency may charge less as they try and acquire enough clients to get their Google Partner badge whereas a larger agency will have overheads to pay and highly trained staff to get the best results.
There are two models for managing AdWords, a flat fee or a percentage of budget spent.
A flat fee is rare to see, mostly due to the fact that bigger budgets require more time and resources to optimise and manage. However, it is possible to see flat fees for very small budgets, so the agency can recover its costs. As an example we charge a flat fee of $250 + GST for budgets under $1,000 a month.
For larger budgets a percentage fee is more common. This enables the agency to add more resources as the budgets increase, without going back to the drawing board on costing hours associated to the account. It's common to see anything from 15% to 30% depending on the complexity of the client and the market. With our AdWords management programme we charge a 20% management fee on any budgets over $1,000.
AdWords is easy to set up but optimising and tailoring to your market and goals is the real challenge, hence why Google has invested so much in their training programmes. But is online advertising even worth it for most businesses? In this blog article we look at what the internet advertising space is looking like in New Zealand for the next 5 years and what this means for businesses like yours.
Download your free guide to
Smarter SEO
Good SEO can mean the difference between your business being found, or you being lost in the growing mass of online resources. This guide is designed to help you rise above your competition.
Download now