How to solve problems with content marketing
More and more people rely on content marketing to find solutions to problems they're facing. From 'How To' videos to free downloadable guides. Jobs that used to require a specialist are now compressed into a 5-step guide anyone can download.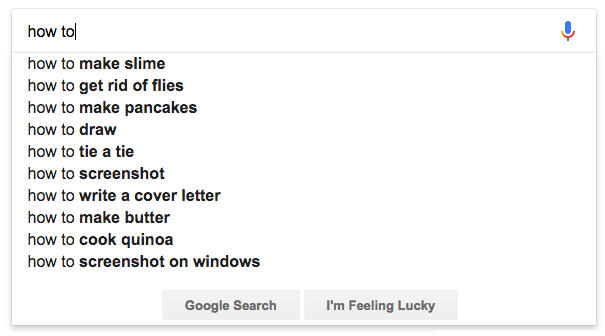 Yet content marketing is a challenge for many in digital marketing, especially in a professional sphere. If your business is looking to adopt a content marketing strategy there are a number of pitfalls you may come across, mainly:
Not wanting to give away specialist knowledge
Worry customers won't need them if they give away knowledge
Makes it easier for that knowledge to be used by competitors
Don't know what questions to answer
Don't know how to write the content in a compelling way
Readers disconnect when content is salesy
These are all very valid reasons to be nervous about starting a full on content marketing strategy. But there are a few pointers you can follow to develop content marketing that positions you as a thought leader in your industry, and instills trust in a prospect.
WANT TO BOOST YOUR BUSINESS'S CONTENT MARKETING? CLICK HERE
What is content marketing?
Content marketing is the creation, distribution and optimisation of:
videos
guides
blogs
whitepapers
articles
images
These are made available online for the wider world to discover through various marketing channels.
The main principle behind content marketing is that the content adds value to people that discover it because a specialist has imparted their unique knowledge for others to discover.
What role does content play in digital marketing?
Content marketing isn't just about giving away years of experience for free. It's a way of attracting people to your owned channels. Owned marketing channels include:
Website
Facebook page
Linkedin page
YouTube/vimeo channel
Blog
On your website and blog the use of articles, images and videos allows you to add keywords, which are an important part of how search engines decide which website to display.
Content published through your social media channels keeps the audience you've gained informed and engaged with you. It adds value to the relationship when done right as it shows you 'get' them and their needs.
Why is content marketing relevant to businesses?
The type of content we're talking about in this article focuses on a segment of the market who are actively searching for solutions to problems. Some of these people are looking to deliver a solution for free (they'll do it themselves) and some are searching for a solutions provider.
As they go online to research answers to questions, or to find information around the challenge they're facing, the most relevant content is displayed.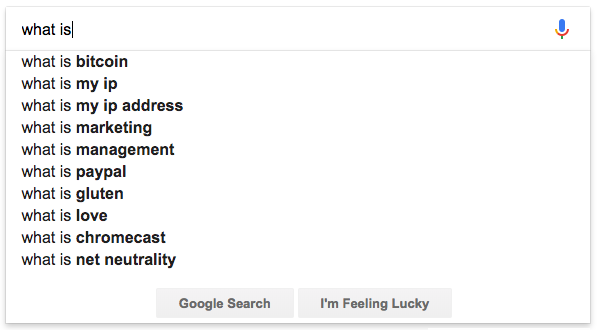 Let's say we clicked on the top result in the image above; "What is Bitcoin". The results we're then given are varied depending on their relevancy.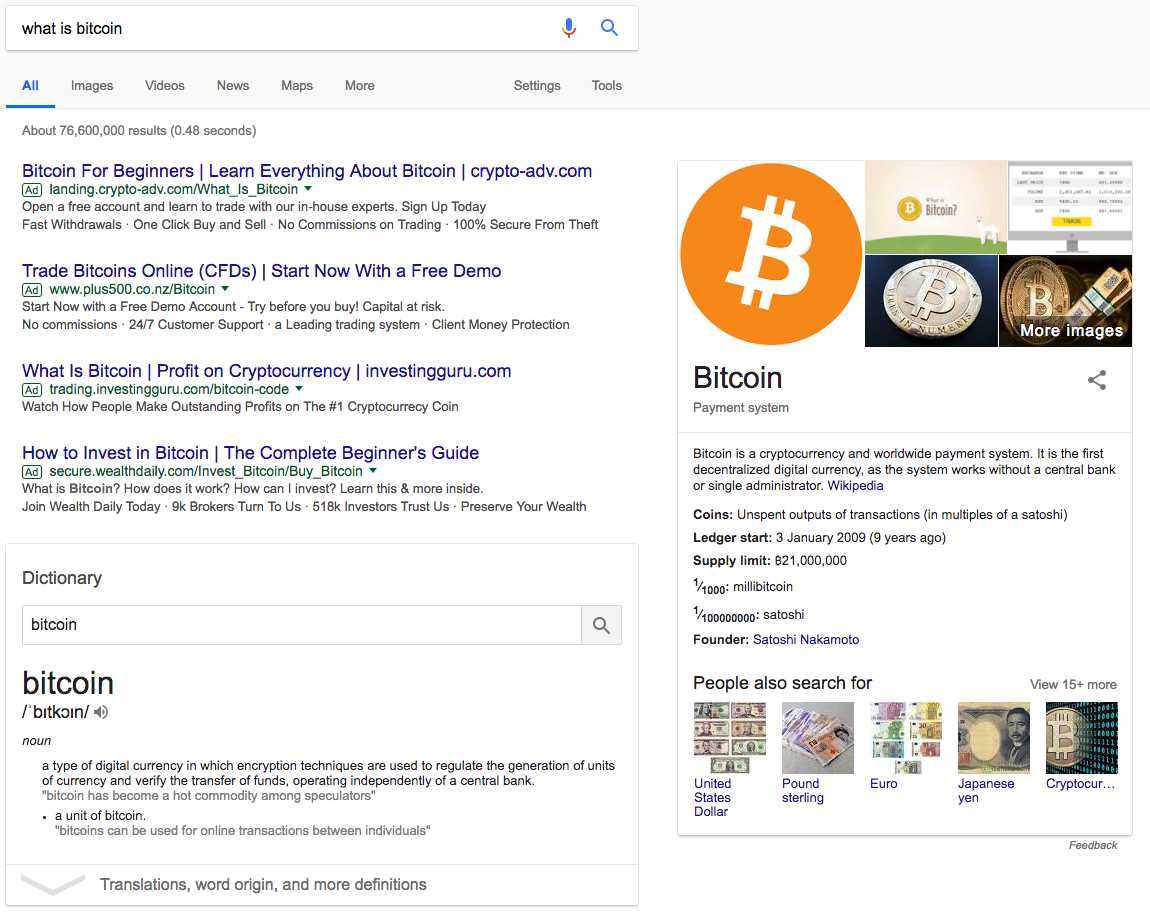 This result is quite busy due to how competitive the cryptocurrency market is right now with businesses trying to get ahead of the competition.
The box on the right is the result from Wikipedia
At the bottom is the dictionary definition
The top 4 results are AdWords, so are paid placements (learn more about AdWords here)
When we scroll below the dictionary definition that's where we start to find the organic results for "What is Bitcoin?".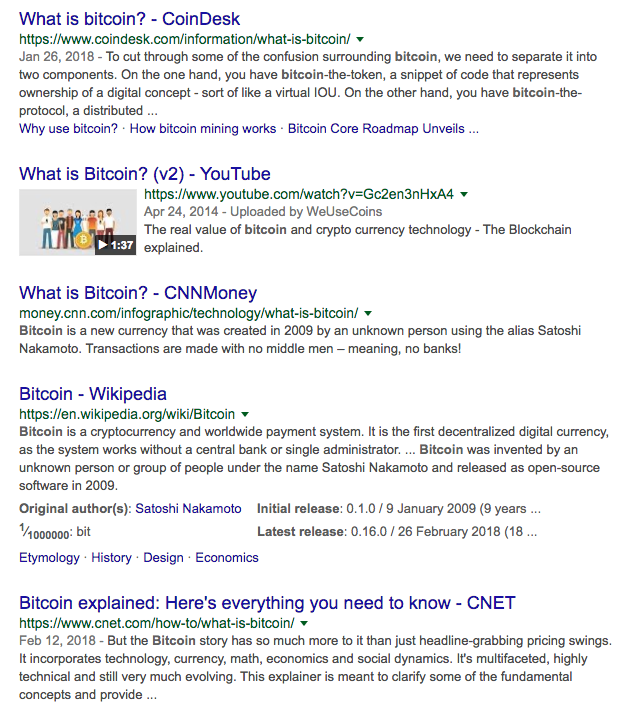 The top result is this CoinDesk web page. This is great news for CoinDesk as the top result for any Google Search gets the bulk of clicks and therefore a good amount of traffic.
The second result is a video on YouTube. It may be surprising to find that the second biggest search engine by searches after Google isn't Bing but YouTube! People like things to be explained in video so content marketing through video is highly important to people seeking information. Oh, and Google own YouTube so that's part of the reason why it appears in results.
As you can see content that answers questions appears when a person is seeking answers. If you appear, then people are directed to your website, which helps you increase website traffic.
If you want more information on Bitcoin and cryptocurrency we suggest you check out this page by King Passive. It's incredibly thorough and answers the question 'What is Bitcoin' in great depth.
How can I create relevant content marketing?
Good content marketing is about knowing which questions people are asking, and providing the best content that answers those questions.
"What is Bitcoin" is a very widely researched question that anyone from a high-level CEO to a student will ask. Bitcoin is so widely talked about, and is such a social phenomenon that almost everyone has had a conversation about it, and people will want to know the basics of what it is.
Your industry is going to be a little different. You'll likely have a smaller group of people interested in what you do and understanding the topics they're searching for may take a bit of guesswork.
It's also key to be present when it matters most to you. As a business you can't employ someone to be creating content just for the sake of it - that's an expense few businesses can afford. Ultimately you'll want some form of return from your efforts and website traffic won't be good enough on its own.
What's the point of content marketing?
Content marketing, when done well, brings the right people to your owned channels. How you define "the right people" will vary based on your business objective but for many businesses that's going to be prospective customers.
Your content marketing strategy needs to focus on the types of questions a prospect will type into Google when they take the first step in researching a problem, and identifying a solution.
An individual asking "What is Bitcoin" may achieve all the learning they need by finding the answer to that, so their journey may end there. But a potential customer may go on to ask "How do I buy Bitcoin?" or "What is Bitcoin worth?".
If you know your customer's journey, and you can provide content that explains the process and answers all their questions, then you can guide them towards buying whatever it is you're selling.
The role of content marketing in digital marketing
Content marketing becomes a passive salesperson, or consultant for your business. Because it's part of the digital marketing mix it doesn't work 9-5, take holidays or even sleep. Instead your content sits there gathering visitors and educating prospects 24/7.
When paired with content that captures leads (likes guides, brochures, etc) it can convert those visitors into contacts and provide opportunities for sales teams to follow-up with.

The image above shows the performance of one blog 4 months after it was published and even though it's no record-breaker it's passively bringing in an average of 250 website visitors a month and 11 new contacts into the business.
This piece of content has been optimised by having a conversion point in it. The CTA is a link to download a guide called 'The Ultimate Guide To Buying Your First Home'. This adds value to anyone looking to buy their first home and gives this business a way to gather contacts onto the database to email and nurture into prospects.
Content marketing is a key element to inbound marketing. Done well it can be a valuable sales tool for a business looking to gather prospects that are on the hunt for a solution. These prospects require less selling to as they're already in the market, which makes your sales efforts more efficient.
Download your free guide to
Smarter SEO
Good SEO can mean the difference between your business being found, or you being lost in the growing mass of online resources. This guide is designed to help you rise above your competition.
Download now