18 great marketing blogs to follow in 2018
Following key bloggers can be a great way to easily digest trending topics in marketing. There are a few places our team goes to get its news, especially when we need new ideas for our own content marketing. Instead of guarding them viciously, we thought we'd compile a list to share with you wonderful people.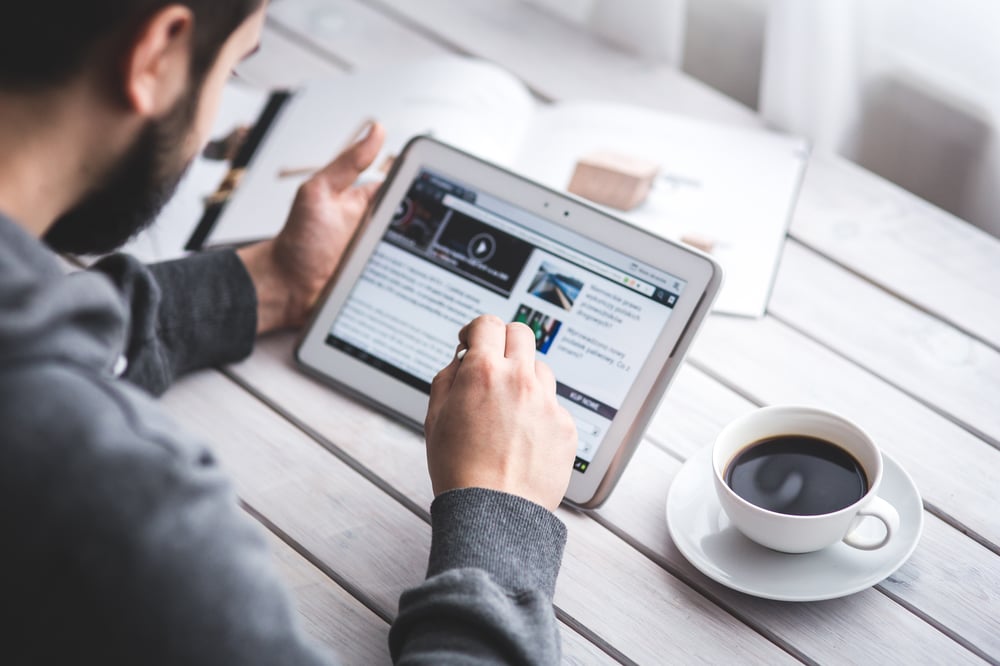 In no particular order, here are some of our top picks. Please feel free to add your favourites to the comments below.
This is where the SEO specialists go to get even more specialist knowledge. Chock full of the latest SEO and Google updates, you can be sure to get heaps of valuable info from every visit.
You'd expect HubSpot's blog to be a wonderland of inbound marketing brilliance. What you might be surprised at though, is the plethora of additional topics being pumped out by the kings of inbound.
We love the Buzzsumo character that features in the blog's imagery, but we also love how the topics cover so many of today's marketing challenges. From advertising ROI, to social media content there's a great mix here.
Spin won't suck if you pay attention to this PR-focused blog. Covering a range of topics across communications and marketing, you'll find the class of guest blogger to be pretty high - which makes reading the content a pleasure.
Another SEO blog, but this one has a single brain behind the great content. Brian Dean doesn't get a bunch of guest writers to contribute and instead pumps out excellent SEO articles all on his lonesome. We think that's worth checking out.
Looking for an inside look at advertising agency life and the industry as a whole? David Burn's blog Adpulp puts a microscope on some of the biggest ads around, and the agencies behind them.
If your appetite is tickled for advertising then you really need to jump on AdWeek. Analysing the Olympics, Snapchat and Samsung are all in a morning's work for one of the world's most visited blogs in marketing.
Content marketing is pretty important, we rely on it as part of our inbound marketing strategy. A leader in content marketing topics is definitely the CMI.
Looking for a blog with a focus on paid digital advertising? Look no further. This blog is great for its narrow focus on advertising but its broad scope from social to display and search.
If social media is your bag then you should definitely swing by Social Fresh. Featuring a bunch of guest bloggers the insights into growing your social presence, and things to watch out for more than makes it qualify for our list.
Sometimes you don't know where inspiration will strike, and Mark's blog gives such a range of business topics. All you have to do is look at his list of clients to see these ramblings are incredibly valuable.
No marketing blog list would be complete without a mention to Marketing Profs. Blessed with great content contributors, there's such a wide range of topics for any marketer to find something valuable.
These world leaders in market analysis and data gathering offer invaluable insights in their blog. If you're data-driven or interested in market trends and patterns, make this your go to blog.
Not content with solely consuming your content digitally? Heidi's blog gives great business book reviews, sandwiched between guides and actionable advice. It's the best of both worlds no matter whether your preference is MacBook or RealBook.
Valuable to any marketer, there's a lot of information here that the small business and entrepreneur will find invaluable. From earning cash on the side to avoiding money wasting, you'll also find great business advice designed to help you save time.
This global agency delivers great content on and off screen and its blog is a tour de force in its own right. Given how cool advertising is, you'd expect their blog to be good. But add a dash of controversy, insight and hard-hitting data and you'll see why this is a gem.
Customer experience, content marketing, social marketing, email marketing are just a few of the topics covered by this global giant. And in a rare feat, their Instagram balances humanity with business very well.
Born between 1977 and 2000, millennials seem to be an enigma to marketers that can't understand why someone doesn't need a catalogue to make a purchase. This blog helps anyone struggling to understand the needs and expectations of Gen Y.
Are you a fan of any of the above blogs? Have we missed one that's on your list of must reads? Let us know in the comments below.
Download your free guide to
Smarter SEO
Good SEO can mean the difference between your business being found, or you being lost in the growing mass of online resources. This guide is designed to help you rise above your competition.
Download now